Seamless experience with professional systems:
Many security companies upgraded their systems, integrating the home security necessity with innovative home automation technology. Nowadays, the chances of obtaining a home security system have immensely improved, with plenty of affordable possibilities for you to choose from. Thanks to the Do-It-Yourself (DIY) systems, security companies have provided state-of-the-art products with reasonably priced services, to oversee your home. The DIY systems will save you money by not having an activation, installation, or monitoring fees. The downside: The DIY's are not as reliable to a degree as a professionally installed system.
Besides, not every customer likes the hands-on experience that comes with these DIY systems. Installing and monitoring a home security system may be a little overwhelming for some customers, in particular, those who are not tech-savvy. To take off the pressure entailed with a DIY-installation and self-monitoring, many security companies have designed systems that are easily manageable, backed by a professional team of experts and first-class services.
A professional security system will take care of everything: from installing to monitoring. The security company will do all the work for you. It is a safer, more reliable way of protecting your home. Some companies offer preset equipment kits, to even make the product selection a trouble-free experience. The packages usually come with a Hub or control panel, motion detectors, or door/window sensors. You may enhance your security system by purchasing additional devices, such as indoor cameras, smart locks, environmental sensors, and many more.
Many security companies have now ventured into the home automation arena, bringing ground-breaking technology right to your doorstep. It enables customers to control components within their home, either through its control panel or mobile phone app. Home Automation offers impressive high-tech features, allowing customers to set smart scenes throughout their homes. You can adjust your home's temperature, turn on your lights, and even unlock your front door, right from the palm of your hand. Using smart technology, you can enhance your security system with many different smart scenes and products.
Professional systems include these outstanding features into their equipment and monitoring plans, as an added perk. It is one of the things that makes Professional systems more appealing than DIY's that may lack the capability of home automation or come as an extra cost.
Professional Installation
Some security companies require professional installation with its systems, to ensure the correct placement of every component. With a professional installation, a trained expert will come to your home and set up all the security devices, making sure they are all up and running appropriately. It is a certified installation with the highest quality standards, guaranteeing optimal performance from your system. The technician has a better comprehension of how your system works, with expertise in installation and performance.
With professional installations, you schedule an appointment for the technicians to come to your home. You won't have to lift a finger; the experts will do all the work for you. This will save you some time: You won't need to do any extensive planning on where the best placement is for all the devices or figuring out how they work. The technicians can give you a walkthrough of how your system works, so you can get more comfortable with all the devices and take advantage of the features that come with it. They can answer any question you may have and give you pointers on how to use your security system for the first time.
Professional installations are perfect for customers who don't have any technical experience or are not good with tools. It is a good match for people who have a hectic life and don't have time to invest in researching all that is involved with a DIY-installation system. Some customers simply don't have the time to do it all and would rather pay for the service. Professional installations are ideal for homeowners who are not planning to move to a new location for a while. Even considering age as a decisive factor, it is recommended for elderly customers, so they don't have to make any effort at all.
Sometimes, security companies give their customers extended warranties when their equipment is installed by professionals. Some companies provide a limited warranty on new products, while others continue as long as you are an active customer. Don't forget to read the company's policy on equipment warranty: you may come across a pleasant surprise.
The main disadvantage that comes with a professional installation is the high initial cost. Most companies provide the service as an added cost. At the same time, it is a requisite to subscribe to their monitoring plans and gain access to home automation features. To make the system more available, some companies dilute the equipment cost in the monthly fees to minimize the high upfront expense.
Typically, professional installations may start as low as $50 and go up to $500 or over. The cost may depend on which equipment you want to purchase and your home's layout. For the most part, professional installers will charge you based on how many components you want to install. Many companies supply the service directly, while others deliver the service through certified third-party providers.
One additional setback that goes hand in hand with a professional installation is the time demanded by the service. You will need to make an appointment for the installers to come to your home. It may take up to a week for the technicians to get to your home and install your system. Once they get there, it could take as little as three hours or more to get the installation done. Another thing to consider is that these appointments may be scheduled during work hours from Monday to Friday. This could be a real nuisance, especially if you need to take time off from work to hold the appointment. Nonetheless, by the end of the day, you will have your system installed and working without a glitch.
Professional Monitoring
The main reason to install a security system is to have a monitoring service in play to oversee and protect your home. Some companies provide the option between self-monitoring or professional monitoring service. DIY systems will save you money on monthly fees. Nonetheless, they come with their own series of obstacles. The main one is that the service is not as secure and reliable as a professionally monitored system.
Subscribing to a professional monitoring service will deliver world-class protection, overseen by trained professionals guarding your home 24/7. When your alarm is triggered, the system will notify the monitoring center, alerting them to take action. The monitoring team will attempt to contact you first to check if it is a false alarm. If you give the wrong passcode or the monitoring center fails to contact you, it will call the proper authorities on your behalf. They will let the police know that a possibly dangerous situation is taking place at your home.
A key feature that comes with 24/7 protection is the quick response time from the monitoring center when a sensor is triggered. This fast response makes a huge difference when a crime is in progress. It can deter possible intruders by sounding of the alarm and dispatching the police to your home or business, depending on where you installed your alarm system. Security companies are proud of their swift reaction to triggered events, adding a layer of extra security to your home. It will give you the peace of mind you need, knowing that someone is watching your back and is ready to respond in a matter of seconds.
Having a professional monitoring service does not exclude you from accessing your security system as traditional systems usually do. Security companies provide mobile phone apps that allow you to manage many home automation features. The ability to create smart scenes are some of many home automation capabilities that you can program a system to do for you. For instance, you can arm/disarm your system, set scheduled alerts for specific events, or view a live feed from your video cameras. You can even turn the lights at a particular time, or unlock your front door remotely. Features that are only included when you subscribe to a professional monitoring service, as an added bonus. It allows you to experience smart home features, bringing your home security to a whole new different level.
Another significant feature worth mentioning is that professional monitoring comes with cellular coverage. It is the most reliable way of communicating with your system: Some companies provided it as the primary connectivity, while others have it as a backup. It is the most secure way, since it has less interference, unlike landline or broadband connections.
With a landline connection, the risk of an intruder cutting down your home's phone line is high, stopping all communications with the system and the monitoring center. On the other hand; Broadband connectivity is a fast way to notify the monitoring center that something is going on at home. However, the main weakness is that if the power goes out, so will the connection to your system. Thus, having a more reliable system, in general, with cellular coverage. Your home is connected through cell towers that send signals to the monitoring center.
Professional monitoring service comes with a cost. You may be required to sign up long-term contracts that have elevated prices in the monthly monitoring fees. Even though security companies have made the service more accessible to the average buyer, it could make a significant impact on your monthly budget. Also, lengthy commitments usually come with steep cancelation fees. We strongly recommend our readers to go over the security company professional monitoring contract thoroughly. You could find yourself in a position where you no longer want the monitoring service but are obliged to keep it going to avoid steep termination fees. However, we simplified all of this, and you can see the best option according to your needs by using the Home-Security.com System Matching tool.
Another disadvantage with professional monitoring is that cloud storage for your cameras may be included only when you sign up for the more expensive monitoring plans. Sometimes it comes as separate extra fee, on a per camera basis. Most companies do provide some cloud storage with their professional monitoring service. If you are planning to add cameras to enhance your security system, check with the company first to verify their policy on cloud storage, and live feed access.
Professional Systems:
In the segments below, we will depict primarily about companies that provide full professional systems, from start to finish. Clearly, this entails only the ones that come with professional installation and require a professional monitoring service in place. There are no options for DIY-installation or self-monitoring plans with these companies. The common thread among them is that there are no long-term savings, unlike many DIY's in the market today. But even though they come at a higher price range, professional systems provide high-quality equipment with premium monitoring services. It is a more secure and reliable option than a self-monitored one.
ADT Authorized Provider SafeStreets:
SafeStreets is an ADT Authorized Provider that professionally installs ADT-monitored home security systems.. It is one of the largest providers of hardwired and wireless equipment and monitoring services. It delivers a reliable security system, backed by exceptional service. ADT offers a simple equipment kit, and trustworthy monitoring plans to cover your basic security needs, with the flexibility to customize it for a more robust and secure system.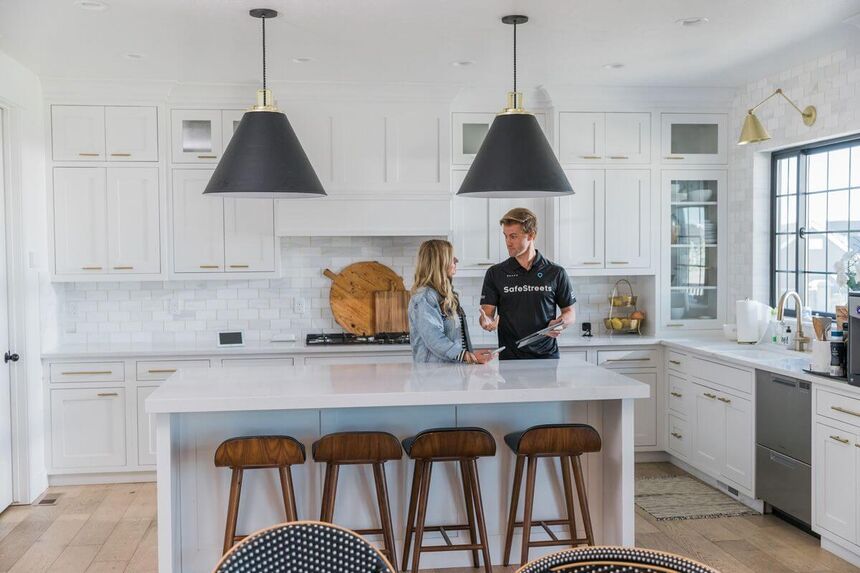 SafeStreets brings one traditional preset equipment package that you can easily upgrade to fit your security needs. The kit comes with a control panel, motion detector, door/window sensors, and a key fob. SafeStreets has an extensive, high-quality product catalog for you to expand your system. Devices such as smart locks, thermostats, indoor/outdoor cameras, video doorbell cameras, and more, can be added, for an extra cost.
SafeStreets' ADT-monitored equipment is on a lease basis; there are no financing plans available. You can pay for your equipment upfront, or dilute the cost into the monthly monitoring plans. The company grants its customers to bring their own equipment for a more economical option. Don't forget to check first with SafeStreets to see if there are any compatibility issues. The company does require that all equipment is installed by certified professionals; it has no DIY-install option. The installation service costs $99.00, and does have an activation fee.
SafeStreets has amazing home automation capabilities, and integrates well with many Z-Wave devices, but does not support ZigBee technology. It works excellent with If This Then That (IFTTT) technology, Nest, Google Home, and Amazon Alexa. Take into consideration that, to get the full home automation experience, you need to sign up to the more expensive ADT Control plan. ADT Control is the mobile app that allows you to manage your home automated devices, letting you monitor them when you are away.
ADT provides three 24/7 professional monitoring plans that cover the equipment starter package; there is no self-monitoring option. The plans have different devices and services: The first plan does not contain the ADT Control app needed for home automation, whereas the second one does. And the third plan is a more robust option, bringing indoor/outdoor cameras with its equipment pack.
If you bring your own security equipment, you can subscribe to a lower monitoring service. ADT has landline or cellular coverage for its professional monitoring services.
SafeStreets equiment is bundled up with the monitoring plans for a more reasonably priced option. This option is realistic with a strict three-year contract that includes equipment packages. If you want to cancel your contract earlier, you will have to pay a steep termination fee.
Vivint:
Vivint is a world-class home security company, best known for its innovative home automation technology. Leading in smart home technology, Vivint carries state-of-the-art equipment and services to satisfy all your security needs. It is an excellent option if you are interested in protection driven by smart technology; making Vivint the premium security system in the market today.
Vivint provides four equipment packages, with the freedom to customize your system as you see fit. The starter kit comes with a control panel, a motion sensor, and door/window sensors. You may buy other home automation devices to enhance your security, such as indoor cameras, smart locks, environmental sensor, and more. Vivint's high-end equipment come with a higher price tag, so don't go overboard with add-on devices you might not need.
You can purchase your equipment upfront or apply for a financing plan, which is a great way to have access to monthly installments. The company provides professional installation, required for all its equipment, having no option of a DIY installation. Vivint will take care of everything; however, as a service, it comes as cost you can't avoid.
The Vivint system comes with one of the best home automation features in the market today. The equipment comes with Z-Wave technology, integrating exceptionally well with Nest products, Philips Hue, If This Then That (IFTTT) technology and Amazon Echo. It has plenty of third-party integrations that you can manage from the Vivint App. Vivint also works with Google Home and Amazon Alexa, delivering control over your system using voice commands.
Vivint presents three professional monitoring plans; there is no self-monitoring option. The plans come with 24/7 professional monitoring and use cellular coverage for their connectivity.
If you purchase your equipment upfront, you can choose to subscribe to a monthly monitoring contract that you can cancel at any moment. But if you finance your equipment, Vivint requires you to sign up for a strict 42 to a 60-month contract. If you subscribe to the financing plans, the contract agreement comes with a steep termination fee.
The key features that make Vivint stand out from other security companies are their world-class equipment and advanced home automation abilities. Being a pioneer in home automation technology, Vivint provides its customers with outstanding features, such as Voice-Activated skill, heighten with Amazon Echo voice technology. It helps your Vivint system respond to commands using voice recognition, making your home automation a superb experience.
Xfinity Home:
Comcast is a famous cable company, making its way into home security industry with its new Xfinity Home system. The system provides a simple solution for home protection; its simplicity is displayed in its sole monitoring service that includes a basic equipment package. With Comcast full home integration, security, and automation, you can bundle up television, internet, home automation, and protection, all under one roof. When you combine Xfinity Home security equipment with other products and services from Comcast, you will get a significant discount.
Xfinity Home offers only one equipment starter kit. You can enhance your system with plenty of add-on devices, such as smart thermostats, cameras, smart locks, and more, as an extra cost. Xfinity Home starter kit includes a touchscreen panel, door/window sensors, a motion sensor, and a keypad. The equipment kit comes with no upfront costs since it is tied up to the contract. It is on a lease basis, so you don't own the equipment, making this the main reason why there are no financing plans available. There is no DIY-installation option; the system requires professional installation that comes with an added fee.
Xfinity Home has remarkable home automation capabilities, providing lots of flexibility to add many smart home products to your security system. The "Works with Xfinity" program allows extensive third-party integration with the most popular companies nowadays. Xfinity joined forces with renowned companies to enrich your smart home experience; companies like Philips Hue, Nest, Kwikset, General Electric, and many more are part of the "Works with Xfinity" program. Xfinity Home does not integrate with Z-Wave technology, Amazon Alexa, or Google Home. It does, however, work smoothly with If This Then That (IFTTT) technology.
Xfinity Home offers one sole professional monitoring service; it has no self-monitoring option. It provides a 24/7 professional monitoring service that is embedded with the equipment kit. It comes with Wi-Fi coverage and cellular backup at no extra charge.
Xfinity's contract lasts two years. It comes with a lower monthly fee for the first year and increases in the second year. You can opt-out early, but they will charge you a steep cancelation fee, paying in full the remaining contract.
Xfinity Home sets apart from other security companies mainly due to its simplicity to acquire its system, making it really simple for the end-user. You can bundle up a sole equipment kit with its one monitoring plan, applying to many of Comcast's areas. It allows different services (internet, cable, home automation, security) to come together under one plan while providing a hefty discount.
Professional Systems Comparison:
The chart below underlines all three Professional systems summarized in the previous segments. It is set up by brands and features, for a better understanding of what is involved with each company.
| Detail | ADT Authorized Provider SafeStreets | Vivint | Xfinity Home |
| --- | --- | --- | --- |
| Activation Cost | $0.00 | $0.00 | $0.00 |
| DIY-Installation Fee | Not Available | Not Available | Not Available |
| Pro-Installation Fee | $99.00 | Starts at $49.99 | Not Available |
| Equipment Packs | Starts at $125 | Starts at $599.99 | Starts at $99.99 |
| DIY Monthly Monitoring Fee | Not Available | Not Available | Not Available |
| Pro Monthly Monitoring Fee | Starts at $28.99 | Starts at $29.99 | 1st year at $29.99 |
| Contract Length Pro monitoring | 36 Months | 42 Months and higher | 24 Months |
| Prices may vary | | | |
Bottom Line
Choosing a security system that is right for you seems like a daunting task, more so if you don't have too much technical knowledge. Security companies have flooded the market with state-of-the-art systems and several options for monitoring your home. With a professional system, the decisions are more straightforward, since the process of installing and monitoring are intertwined with your monthly subscription.
The companies depicted in this article are all professional systems. This means that an expert technician will come to your home and take care of the entire installation process. Furthermore, these systems come with a professional monitoring service. A trained monitoring team will be in charge of overseeing and responding to your system's notification when a sensor is triggered. Professional systems add a layer of protection to your home, with their 24/7 surveillance. The drawback: it all comes with a price tag. You will have to subscribe to monthly fees to obtain this kind of service. There is no option for self-monitoring.
As previously stated in the segments above, every company has different policies, especially when it comes to acquiring your equipment. Some companies provide it on a lease basis, along with their monitoring plans. Other companies expect the equipment kits to be paid in full, making the initial cost of buying a security system a little high. All these companies require their equipment to be installed by professionals for an extra cost without access to DIY Install options.
Picking which one is best will fall back on your security and home automation needs. Before choosing a security company, we recommend you look into its monitoring plans, additional fees, and equipment purchasing procedures.
As a rule of thumb, don't forget to check the home automation features included with each plan, specially if you are a tehcnology oriented. You can make an informed decision on which company will meet all your security expectations and fit in within your budget.
None of the security systems aforementioned have DIY Install or Self-Monitoring options. If you want a better understanding of how these systems work, the DIY Systems Guide will explain in detail all the pros and cons of using DIY home security systems as an alternative to the professional home security systems depicted above.