Overview
ADT offers numerous features like a wireless keypad entry, door and window sensors, video security cameras, environmental sensors, home automation features, mobile and web access, among many other devices that can help you adjust your home or business security essentials.
ADT Pulse is the home and business automation system that lets you manage and monitor your home, even when you are away. One aspect that stands out is the ADT medical alert devices that work anywhere that's covered by the AT&T wireless network. This medical alert system helps senior citizens to carry on with their lives while staying safe. Another outstanding feature is ADT Go, a service app that keeps track of your family members, with real-time GPS location data. It helps you keep them safe with features like SOS Emergency Response and Crash Detection.
ADT Home Security offers the option to bring your own equipment or lease it from ADT. However, ADT requires all its equipment to be installed by a certified professional; that is why there is no DIY installation option. ADT professional technicians make sure that it's correctly installed at no extra cost for you. But they do have an activation fee embedded.
ADT delivers home security service via landline or using cellular technology, which connects directly to their system, which a 24/7 professional monitoring service in their available plans, but customers must sign a three-year contract.
Key features
Cellular or landline connection
Hardwired and wireless equipment
24/7 Monitoring
Intrusion Protection
Medical Response
Home Automation
Mobile Alerts
Cost and contract information
ADT Home Security System delivers only two options when it comes to acquiring their equipment: an upfront cost of $125 or spread it through the first three months, a monthly fee for maintenance and monitoring service. With ADT, you don't own the equipment, you lease it, and the cost is spread throughout your monthly monitoring plan (To find out more information on any other financing plans, contact ADT directly to make an appointment). ADT provides professional installation for all their equipment with no extra cost, so a DIY installation is not an option. ADT does have an activation cost that starts at $99 and may go higher, depending on the devices you choose for your home or business. If you want more home automation devices, you may add them to your original package, but keep in mind that the final the price on the equipment may increase significantly.
ADT runs three of options when it comes to equipment and monitoring plans: The Traditional Package, The Control Package, and the Video Package. From there, you got a range of possibilities to upgrade or match your needs. Some of ADT gear has hardwired or wireless options, that work with the home automation system through the ADT Pulse App.
ADT's contract agreement is very strict: you have to go along with a three-year deal with the option to opt out early, paying 75% of your remaining contract. If you are not happy with your equipment, ADT offers six-month money back guarantee (longest in the industry). They also have the theft protection guarantee, where you can get up to $500 of your insurance deductible covered if a burglary happens while your system is armed.
System Detail
Traditional Package
Control Package
Video Package
Installation Fee
$0.00
$0.00
$0.00
Activation Cost
Starts at $99
Starts at $99
Starts at $99
Monitoring Fee
$28.99/month
$36.99/month
$52.99/month
Equipment Cost
$125
$125
$125
Equipment Included
Control panel
Door/window sensors
Motion detector
Key Fob
Window/yard sign
Control panel
Door/window sensors
Motion detector
Key Fob
Window/yard sign
ADT Pulse App
Control panel
Door/window sensors
Motion detector
Key Fob
Window/yard sign
ADT Pulse App
Indoor/outdoor cameras
Connection Type
Cellular
Cellular
Cellular
Contract Length
36 Months
36 Months
36 Months
Coverage
ADT Home Security System manages hardwired and wireless equipment. It offers two options to monitor your security system: a landline system and cellular-base technology. A landline system will use your home telephone line to communicate with the monitoring center, while cellular-based technology will connect through the cellular telecommunications networks. ADT monitoring offers both options. You can also get the CellGuard as a cellular-based backup service for your security system which decreases the possibility of being offline for monitoring. At the moment, ADT Security is only available in the United States and Canada.
ADT has a strict three-year agreement, and the cancelation policy states that you can opt out early by paying 75% of your remaining contract.
Equipment
ADT Home Security system is installed by accredited professionals that comes with equipment and monitoring plans that have a lot of flexibility to add on devices to your home. ADT packages let you customize your home automation in a way that best suits your security needs. These packages come with a basic system that includes: A digital control panel, door/window sensors, motion detectors, window decal, and a yard sign. All plans come with one wireless Keychain remote that helps you arm or disarm your system remotely with the push of a button within 50 feet of your digital keypad.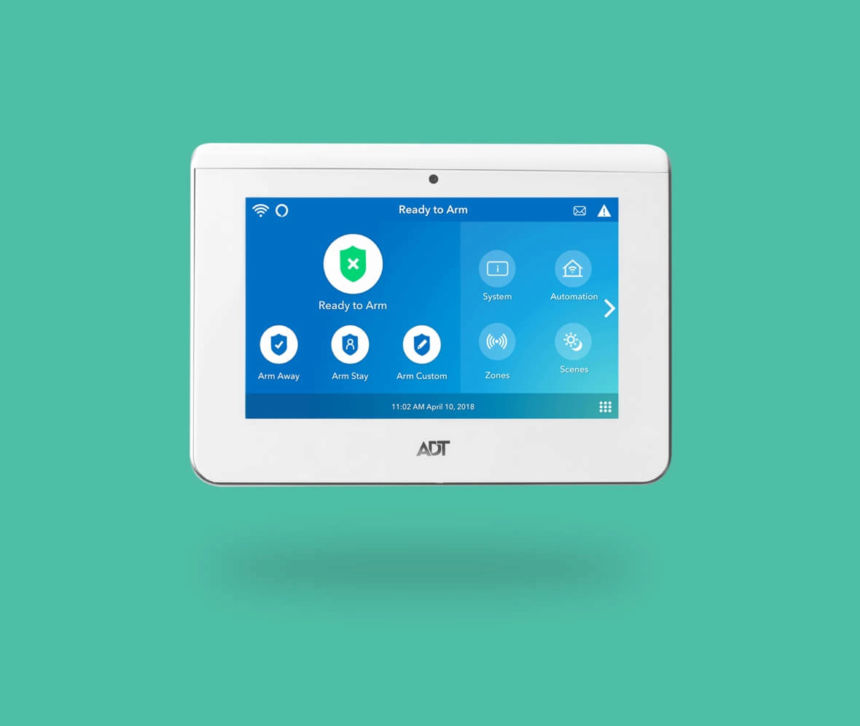 ADT's push button control panel is the center of the whole security system. From this panel, you will be able to arm and disarm your system, enter alarm codes, manage connected devices, establish a two-way connection with ADT monitoring center (available in selected packages), and call for emergency help.
The ADT package comes with three door and window sensors for your home security system. These are entry sensors that notify you when windows and doors are opened or closed. They are installed next to magnets that, when separated, it will trigger your sensor sending a message to the control panel and a notification to your mobile phone.
ADT's motion sensors scan rooms and can detect motion in an area up to 35 by 40 feet. If the sensors go off, you will receive a notification or trigger a video clip of what's going on, depending on your monitoring plan. You can also connect your sensors and lights, so if the motion sensor activates at night, the lights will turn on automatically. ADT sensors allow you to customize their sensitivity so that it can distinguish between people and animals. These sensors are pet-friendly up to 80 pounds, thus reducing the chances of triggering the sensors accidentally. ADT gives you the option for wireless sensors. If you choose wireless, the batteries have a lifespan of seven years. Don't worry, you will be notified when the batteries are running low.
ADT security system comes with an assortment of goods and devices that will help you match the system to your security wishes, such as environmental detectors, indoor/outdoor cameras, a video doorbell, smart locks, and lights control.
Below are some of ADT's remarkable equipment features:
| Smart Home Options | Main Benefit | Technology | Type |
| --- | --- | --- | --- |
| ADT Pulse App | Convenience | Basic | App |
| ADT Video Doorbell | Advanced Detection | Basic | Camera |
| Smart Door Locks | Control | Advanced | Automation |
| Smart Thermostat | Energy Saver | Intermediate | Automation |
| Smart Lights | Control | Intermediate | Automation |
| Smart Switches-Plugs | Control | Basic | Automation |
Home automation
ADT Security System has full home automation capabilities; the only drawback is that you must go along with an ADT Pulse plan to get the complete experience. ADT works with many Z-wave compatible devices, such as smart plugs and smart thermostats.
You can purchase home automation equipment through ADT. But if you decide to buy Z-wave gear on your own, ADT gives no guarantee that they will work within its system. ADT doesn't support ZigBee devices, but it does integrate well with Nest.
ADT's home automation supports Amazon Alexa and Echo. With Alexa's enabled devices, you can arm and disarm your system and access the smart devices using Alexa's voice recognition.
ADT has recently partnered up with Nest, extending its reach for the Nest cameras, the Nest Home Hub, and voice-activated Google assistant. ADT will be able to use Nest equipment effortlessly through its internet connection as part of its security system.
You can enhance your smart home automation experience by adding features to your ADT Security System package, for an additional increase on your monthly fee:
| Automation Feature | Traditional Package | Control Package | Video Package |
| --- | --- | --- | --- |
| 24/7 Professional Monitoring | Yes | Yes | Yes |
| Burglary Detection | Yes | Yes | Yes |
| Fire, Flood, CO Detection* | Yes | Yes | Yes |
| Remote Arm and Disarm | No | Yes | Yes |
| Smart Home Devices* | No | Yes | Yes |
| Customizable Features | No | Yes | Yes |
| Live Streaming Video | No | No | Yes |
| Record and Save Video Clips | No | No | Yes |
| *Additional charges may apply | | | |
Customer experience
ADT Home Security System offers plenty of products and services, being one of the most diverse companies in the security business today. ADT Monitoring features deliver an extra layer of protection when it comes to home security. ADT's professional monitoring team reacts within seconds when one of your sensors triggers, so they can take action and call the authorities if needed.
ADT monitoring service has 24/7 customer support service, provided by professional teams all over the US and Canada. ADT security system comes in three different packages that suit your security needs in different ways. You can choose from the most basic bundle to the more advanced monitoring plans that can add home automation access and live video feed from your home. ADT home monitoring has an immense level of protection to make sure your home is protected, even when you are not there.
As for their sales tactics, the only way to get a clear answer about pricing or any other specific feature is to set up an appointment for an ADT technician to come to your home. It can get a little frustrating if you want to know just what packages they carry and see if ADT is what you are looking for in a security system. They do, however, have a few options when it comes to customer support: you can speak over the phone or live chat or with a representative. ADT has a sizeable online help center that covers a lot of articles and FAQ that can help you if an issue comes up. ADT has been a BBB-accredited business since 2013 and has a rating of A+ which is considered a top rank evaluation.
ADT installation
ADT Home equipment requires an ADT professional installation technician to execute all the equipment setup and connectivity. A Do-It-Yourself (DIY) installation is not an option. With a professional installation, its guaranteed the equipment is set up appropriately, and everything is up and running. ADT professional installation system lets you customize your gear according to your needs, getting the most from your home automation capabilities.
DIY Installations come with their share of issues that you should keep in mind. You have to do all the work that involves designing, planning, and installing the equipment. Sometimes with a DIY system, devices are acquired from different brands, and this can cause some problems when trying to incorporate them to your security system. The upside to a DIY install is that you save up money not having to pay for a professional to do it. With ADT Professional Installation, even if it costs a bit extra, your security system will be up and running efficiently, without you lifting a finger.
When you choose ADT for your home security and automation system, a service representative will make an initial consultation by going to your property, doing a tour around it, and asking you questions about what you expect from your system. The rep then will make recommendations on what components and monitor service plans make the most sense for your home or business. Once you agree on an installation plan and price, you will set a date for ADT installation technicians to come out and set everything up. It usually takes up a couple of hours to set up, so be prepared to have some free time available for the installation to complete.
Remember, there is no installation fee, but the cost comes embedded within the activation fee. This fee starts at $99 for the most basic installation and can go up to $199, depending on what devices you pick. In some exceptional cases, the install process will exceed $199 this may vary with the system you decide to get.
Landline or cellular
ADT Home Security is one of the few companies in the security industry to monitor through landlines and cellular systems alike. Many home alarm systems only offer cellular-based monitoring, and while cellular is generally the most reliable option, it isn't available in some areas. Or you might also want an extra layer of backup when it comes to availability to communicate to your security system.
Some of ADT's packages need cellular communication to access all the home automation features. ADT has a wireless cellular system available for its customers called Safewatch CellGuard. This device does not require a landline as it attaches to the control panel. Cellguard allows ADT to monitor your home through the cellular networks in the area. Thus is the system that is installed in homes that don't have a landline or customers that want reassurance that their monitoring service will not be interrupted. The Cellguard device is an add-on to your package, being an optional upgrade that affects the pricing at the end.
Bottom line
ADT Home Security is a company with decades of experience, providing a reliable security system for your home or business. ADT offers quite a few hardwired and wireless equipment and monitoring plans that cover the most basic needs and can be as customized as needed. It extends to many smart home automation possibilities like indoor/outdoor cameras, motion and environmental smart sensors, a video doorbell camera, smart lights, and the ADT Pulse App that lets you control everything inside your house.
ADT may not be the best match if you are on a tight budget, but it is an excellent option if you want a hassle-free professional installation and an outstanding level of home automation and monitoring service.