Overview
Installing a security camera system helps users monitor their kids, catch burglars in the act, and even increase productivity at work. They are a fantastic addition to any alarm system, granting 24/7 remote access to your property from anywhere at any time.
Home security systems usually come with a starter pack that most likely will include a hub/control panel, access sensors, and motion detectors. Most security companies offer cameras with their equipment packages, sometimes as part of their standard kits or add-on devices.
Security companies give you the freedom to add multiple security cameras based on what you need and your lifestyle. But before buying any equipment, you must learn about what to look for in a security camera system, and what types of cameras are available.
Benefits
With today's hectic lives, rising property crime rates, and random acts of nature, it is hard not to always find yourself worrying about your home's safety. Security cameras can provide a window to the wellbeing of those you love, your pets, and priceless items.
Security cameras can have a massive impact on your home safety. They act as excellent visual deterrents, making intruders think twice about breaking in. They also provide live access to your home or business, so you can check at any time the status of your property.
So, what makes a security camera a must-have device? Here are the top benefits of having a security camera system installed:
Peace of mind
Installing a security camera system will deliver the much-needed peace of mind that you might be looking for. You will have an extra set of eyes watching over your property, whether you are home or away on vacation. Having the option to check in at any time will ease your concerns.
Prevention of property crimes
Criminals are always on the lookout for a property they can break in quickly and go undetected. Security cameras can help prevent such incidents by acting as the perfect watchdog.
The presence of such visual devices will alert intruders that your home is well-guarded, deterring them from trying to commit any criminal acts. They will probably never come around again.
Monitor your kids and other family members
Installing security cameras around your home will allow you to monitor your loved ones at all times. Placing cameras in strategic locations will let you see your kids playing outside in the backyard or watch your puppy as he chews down his new toys.
You can also keep an eye out on any elderly family member who lives independently on a more out-of-the-way area. You can even get notifications when your nanny or your father's nurse arrives at your front door, right from the palm of your hand.
Monitor your home, second homes, and vacation properties
Having a security camera system in play will be extremely useful to monitor all your properties when you are not around. You can oversee second homes and vacation properties, getting instant notifications when unusual movement is detected.
They are a great asset to add to properties with other buildings that need to be guarded, like barns, tool sheds, or detached garages. Setting up cameras in blind spots, like dark corners or the back porch, will let you see who is hovering over your property.
You can assess the situation and measure up the trespasser's intentions to know if you need to contact the local authorities for assistance.
Helpful evidence in post-alarm footage
Security camera systems are well known for their capability to record incidents in actual time. The cameras can capture and save images of crimes being committed with their fantastic digital storage features.
They are a great tool as a form of evidence, so the proper authorities can evaluate and know precisely what happened. They can even get an accurate description of the perpetrator and help in the analysis of future occurrences.
Helps business' productiveness and conflict resolution
A business manager can't always keep an eye on every corner of the office. Still, the need to monitor its employees' performance, prevent theft, and increase the safety around the workspace is a great one.
Security cameras can be a fantastic addition to any business, meeting numerous expectations. They grant live feeds and still shots to help resolve any conflict originating at the office while making the personnel feel safe.
Affordable price tags
Thanks to a plethora of smart products overflowing the market and security companies battling out to deliver the latest home automation, security cameras are now affordable by the average buyer. Not only are security systems have incredible price tags, but they can also help lower your homeowner's insurance!
It connects you to your smart home
Anytime. Anywhere. With its cutting-edge technology, you can customize your notifications to get real-time alerts and sharp captures. It gives you remote access to your live feeds to see what is going on at home when the security cameras trigger the alarm. Or you can just pop in to check how things are going with the new nanny; the sky is the limit!
There are many reasons why people choose to have a security camera for home or business purposes. The main advantage is the extra set of eyes watching over your property day and night. Adding a security camera system is one of the best ways to enhance any security alarm system. It will provide a more robust safety solution to any residential or commercial property.
Features
While building your security alarm system, you get to choose what smart equipment and features best suit all your needs. The same thing goes when buying surveillance cameras: you will decide what video quality hits the mark or additional quirks that catch your eye.
Security cameras come in all shapes and sizes, but they are not created equal. There is a camera designed for every security need you can imagine. Each one will have its own distinct purpose, thus providing the user stacks of applications.
The following criteria will work as a guideline so you can figure out what are the must-have features on your security camera system. Keep in mind, not all cameras will get full marks on each category. Still, it will help you narrow down the best features that you should be looking for when buying any new security camera.
Video
When it comes down to video quality, there are some key factors you should get familiar with. The first one is the camera's field of view. It is basically the area captured on the camera's imager that will directly influence the image resolution. You want to look for cameras with a viewing angle of at least 120 degrees, to cover more space in one room.
Next, cameras with a High Definition (HD) display resolution will give you a more precise image. Previously, the norm was around 720p HD, but now the industry standard is at 1080p HD. More advanced cameras come with a 4K display, quadrupling the number of pixels than the 1080p HD models. With higher resolution comes better image quality, allowing you to see faces more clearly or capture a car's license plate.
Another key feature is the camera's field of zoom. Some cameras have a digital zoom option, which means that the camera doesn't have a lens to take over the enlargement. It is achieved by software engineered to repeatedly blow up the image, doubling the pixels' size. As it magnifies the picture, the color and details will get less and less accurate.
Other cameras have optical zoom built in, using its own lenses to move closer to its subject. When you zoom in optically, the field of view will decrease, but it allows you to get a more detailed image as possible. You will get a closer look at any intruder inside the field of view without much degradation. This way, if the situation calls for, you can give the police a more precise description of the perp.
And last, a cool feature to have is the ability to pan. Cameras can have a field of view as high as 180 degrees, but no more. Some devices can swivel around from a fixed position, delivering a 360-degree view of your living room or kids' play area. It is an essential feature if your interests lay on looking into every corner in the room.
Night vision
Security is a 24/7 job that doesn't end just because the sun goes down. Many customers require nighttime surveillance to guard their property after dark. It is especially handy in the commercial sector that needs to monitor offices, warehouses, or valuable assets after closing time.
Night vision or IR cameras use infrared light to illuminate images in the dark. They deliver clear and identifiable images in low-light areas and in areas with no light at all. But not all images are the same. You can choose a camera that offers a color night vision or opt for the black and white infrared option.
You will need background lighting to produce color images and videos at night. You gain a more detailed view of the objects, such as vehicles, valuable items, or potential suspects. Still, you need some other light source to brighten up the area, like motion-sensor spotlights, streetlights, or a porch light. The one downfall is that intruders can quickly discover where you placed the cameras and are more likely to cover them or even steal them.
With a black and white IR camera, you will get the same clear night vision, minus the colorful background. IR night vision has more subtle LED sensors, keeping your camera concealed from prying eyes. The more LED sensors, the clearer the images will be. You can get a crisp view of any trespassers, and not have your equipment exposed with any spotlight calling attention to it.
Some cameras have both options and are programmed to switch from daytime color images to black and white infrared at night. Others have the choice to change it manually at any time, so it is more a matter of taste. Be sure to check out the specifications of any camera you are thinking of buying, so you get what you are looking for.
Audio
Most cameras come now with a built-in microphone and speakers, so you can have two-way communication. This feature allows you to see, hear, and speak with anyone standing in front of the camera.
You can talk to the nanny about any changes in your kids' daily routine or have a friendly chat with a neighbor returning some borrowed tools. It also comes in handy to scare away trespassers trying to snatch up your delivery boxes. You can warn burglars that the police are on their way and to get off your property.
Smart platform integrations
Suppose you already own a smart home ecosystem. In that case, you probably know that the more products you add on, the more difficult it gets to integrate them all. To simplify the integration process, the security industry came up with voice assistants, so you can manage all connected devices by using your voice.
Voice assistants are an artificially intelligent assistant that uses voice recognition, natural language processing (NLP), and speech synthesis to deliver a service through an application. They react to voice commands, allowing them to control connected devices, answer questions, and perform actions for its user.
The leading voice assistants in the market today are Goggle Assistant, Amazon Alexa, Apple HomeKit, and Microsoft Cortana. You can integrate most of your smart home devices and manage them with your voice instead of a touchscreen interface.
If your camera has an integrated voice assistance feature, you will be able to command it hands-free! And if it comes with If This, Then That (IFTTT) technology, you can create recipes that will trigger actions between multiple devices.
For example, you can program your smart lights to turn when the camera detects any unusual movement. It comes in handy in your property areas that are not well lit or in more secluded spots. You can scare away wild animals terrifying your livestock or any trespasser hovering over your back porch.
Z-Wave technology is another wireless communication protocol used by leading companies to integrate home automation. Companies like Honeywell are part of the Z-Wave Plus certification program that ensures the best performance from smart products. Other companies, such as Xfinity home security, rely on third-party devices to bring a comprehensive catalog into their security systems.
Artificial Intelligence (AI)
Artificial Intelligence (commonly referred to as AI) uses advanced software programs to analyze images and audio from security cameras to recognize humans, pets, vehicles, and many different objects and events.
Cameras with AI technology can tell the difference between your kids playing in your living room or your cat jumping on furniture. AI helps create notifications that matter more, dismissing unnecessary warnings like leaves blowing in the wind or cars passing by. You will only be alerted when the camera detects motions from persons inside the field of view.
Some cameras even have the latest facial recognition software. They can learn the faces of family members and friends over time, sending instant notifications when certain people come into a room. And it goes the other way too: it can alert you when an unfamiliar face is entering your premises. You will get fewer irrelevant notifications and pay more attention to the ones that matter most.
Storage capabilities
Security cameras include some type of storage source that you can access to review past feeds and snapshots of events. Some cameras have local storage (such as micro-SD cards or flash drives), while others offer a secure cloud server.
Many security companies offer limited cloud and local storage for free. Other companies charge a monthly fee or require a subscription to a monitoring plan to get more space. Make sure you review the company's policies to explore your storage options.
Installation
There are two types of security cameras available today: DIY and professionally installed. Most cameras now have a straightforward DIY installation, free of annoying cables dangling from your walls.
Do-It-Yourself (DIY) cameras are easy to set around your home. They can be mounted on the wall or sit freestanding on a bookshelf. They effortlessly link to a Wi-Fi network and hook up to the live feeds using a smartphone app.
For example, Frontpoint DIY cameras are best known for their straightforward setup process, but they have no professional installation services. If you are not too keen on taking on a DIY project, you can always ask a friend to help or hire a local provider to take over the task (for an extra fee).
As an alternative, companies like Protect America offer professional installations to their DIY equipment as an added service. A few of them don't have any DIY gear. For instance, Vivint Home Security requires every device to be installed by an authorized technician. In the end, it is up to you what route you want to take.
Price tags
With so many security companies competing to deliver the best smart products, surveillance cameras come with an enormous price range. You can find cameras that sell for as little as $50 and go as high as $400 or more. Bear in mind that the quality of a cheaper camera may not be the same as the more expensive ones.
Here is where the categories mentioned early come into play. You can assess each camera's features and decide if it's worth the higher price tag. Thankfully, there are plenty of options in the market today, where you can pick the best match to your budget, safety needs, and lifestyle.
Security companies like Link Interactive offer no preset kits and amazing flexibility when it comes down to equipment. You can build your system from the ground up without breaking the bank. SimpliSafe is another excellent option that provides competitive prices with high-quality gear.
Types of cameras
When you are considering the safety of your family and home, security cameras come in very handy. They add an extra layer of comfort and security to any property. Now that we reviewed everything there is to know about key features and installation methods, let's dive in on the cameras available for you.
To begin with, you should try to determine how many cameras you need. Think about the size and layout of your property and where you are planning to place each device. And don't forget about the use you expect out of them.
It can be a difficult task to figure out which cameras are better suited for your safety needs. The camera you need for your family room is not the same as the one you will set in your garden. The types of external factors each camera must endure are different in every scenario.
There are heaps of models available, and each has been designed to meet some specific objectives. But mainly, security cameras can be classified into three groups: Indoor, outdoor, and video doorbell cameras. There is a fourth category that is gaining momentum among techies: security drones. Let's get cracking and explore what each camera has to offer
Indoor cameras
Indoor cameras come in smaller sizes, are more lightweight, and usually blend in smoothly with your home's décor than outdoor cameras. They are perfect for a family room, bedrooms, and any area you want to monitor inside your home or office.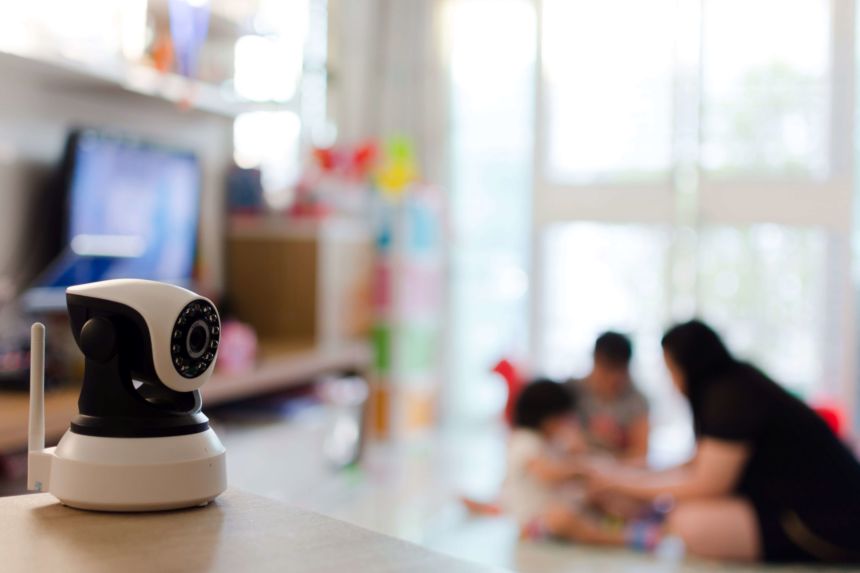 Some of them have remarkable features like infrared vision for clear images in low light conditions, and AI Face Recognition technology like the popular Nest cameras. They now hold very slick designs and come in different colors for you to pick, so they don't clash with your interior decoration.
Other more concealed indoor cameras are hidden inside ingenious objects like smoke detectors, clocks, or a baby's stuffed toy. These hidden cameras are better for covert indoor surveillance. They are an excellent option to keep an eye out on your new nanny or catch your roommate red-handed stealing your snacks.
Dome indoor cameras are designed to keep the bystander from guessing where the lens is pointed. These are a perfect match for businesses that want to prevent people from quickly hiding from the camera. They also keep "fishy" workers on their toes, knowing that all times, there is an extra set of eyes watching their every move.
Nowadays, most indoor cameras have integrated two-way communications, allowing you to speak with anyone standing in its field of view. You can see what your kids are up to and tell them to get off the new couch while sitting at the office.
You can place your indoor cameras on any flat surface, facing the area you need to monitor. Many cameras now have a wireless setup to move them freely from one room to the next.
Outdoor cameras
Outdoor cameras are bulkier looking and usually include sturdy wall mounts to hang from any surface. They are made from durable materials like metal since they are more vulnerable to being tampered with. Outdoor cameras are engineered with a more striking design to act as a visual deterrent for criminal acts and sometimes are lodged inside casings to discourage easy removal.
While all security cameras have basic standard features that you can compare, outdoor cameras need to withstand many different weather conditions. They will have some distinctive features that set them apart from other types of cameras. Some even have heaters and blowers incorporated to give a better-sheltered environment against the elements.
Like any other surveillance device, outdoor cameras have incredible features like night vision and motion-activated sensors. Some models can change automatically from color images to black and white when there is a sudden change in light.
Outdoor cameras also have built-in microphones, allowing you to communicate with anyone standing in front of it. It gives you the element of surprise over trespassers, as you will be able to see them and even scare them away, all from the palm of your hand.
Installing outdoor cameras on your backyard or above the garage door is a great way to boost the security around your home's perimeter. They are also a fantastic option to guard additional buildings like barns, horse stables, and silos in more open-area properties.
If you want to protect larger areas like parking lots or the company's warehouse packed with valuable objects, setting up multiple outdoor cameras on your property's outskirts is the perfect match. You can set them up in dark corners with no visibility and combined them with smart lighting to illuminate the area.
Many outdoor cameras have cable-free setups to prevent intruders from cutting off the cables for power or video signal. You can relocate them from one place to another as you need. You will have to dismount them from their base and reinstall them on your preferred location.
Security companies now bring innovative equipment to tackle outdoor safety. Deep Sentinel is the perfect example of artificial intelligence combined with human monitoring service, with AI outdoor cameras monitored 24/7. Delivering a more proactive approach, the cameras can identify a possible crime in progress, alerting the monitoring center to take charge.
Video doorbell cameras
Video doorbell cameras are a more recently innovative smart home product from the security camera family. They are a trendy device among security system customers looking to keep tabs on their front door's comings and goings.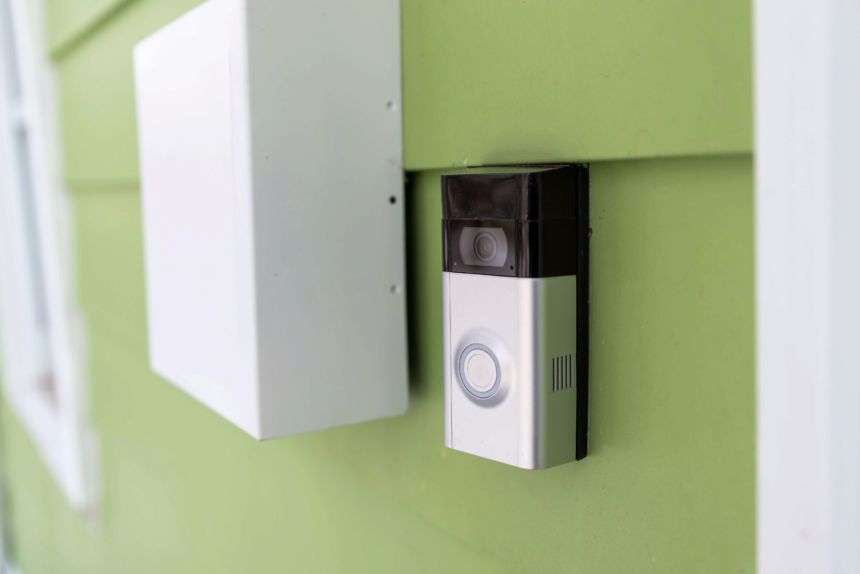 A video doorbell is a security camera built into your doorbell; therefore, their design is mostly slim to fit your door frame. It is not as bulky as an outdoor camera and usually lighter than indoor cameras. The video doorbell camera is also built to endure extreme temperatures and severe weather conditions.
Most doorbell cameras are easy to install by anyone with the necessary DIY skills (except for a few hardwired versions). You can power your doorbell camera with an existing hardwired installation or a backup battery system. For a little extra, some newer models have a solar charger.
Security cameras will bring a significant change to your everyday life. You will no longer have to run to the front door from the backyard to answer the door. You won't need to pull yourself out of the bathtub to yell at the Chinese delivery guy to leave the order on your doorstep. You don't even have to be home to answer the doorbell!
You will get a notification to your smartphone when someone comes to your doorstep, even before they ring the bell. With the application, you can answer the door from anywhere and have a friendly chat with your visitors.
Nowadays, most of the top video doorbell cameras in the market come with all the bells and whistles. They offer two-way audio, motion detection, night vision, and many other top-of-the-line features. Some companies design and manufacture their own equipment. Others like Brinks Home Security have partnered with renowned companies like Alarm.com to provide for all their equipment and mobile applications.
Other cool features are the ability to prerecord messages as the doorbell button is pressed, chime included. The renowned Ring video doorbell camera comes with adjustable motion zones, sparing customers the hassle of false notifications. They come in handy to help the camera focus on the right areas, instead of busy sidewalks in front of your property.
One of the best (usually paid) innovative features is facial recognition. You can name and label family members or frequent guests in the smartphone app. The camera will learn to tell the difference between your nanny arriving to pick up the kids, the mailman, or Grandpa coming over for a visit. You can turn off the alarm remotely and grant or ban access to your home or business without actually being there.
Your front door is the gateway to your home and office, and it needs to be well guarded as well as the rest of the property. Video doorbell cameras can keep track of parcel deliveries made to your workplace. They can also keep an eye out for troublemakers, or disgruntled ex-workers who come back to ransack your office.
Installing a video camera system will help you keep an eye out on your property. They let you scare away porch pirates trying to snatch up your Amazon delivery boxes. You can finally catch that pesky neighbor who doesn't clean up after his dog's "businesses" on your front lawn.
And finally, video doorbell cameras can expand your smart home experience to new heights. Pairing them up with smart locks, smart lighting, and other smart devices will give you complete control over your home. You can open the door to your dogwalker, lock the office after the last employee has left, or light up the porch when a visitor comes to ring the bell late at night.
Security drones
While they might seem like cool toys, it is a new product that can add immense value to your home security system. A high-quality drone gets a unique view of the world around you. Drones can patrol your property, taking aerial shots of areas that are hard to reach.
Traditional security cameras are typically limited by the static nature of the camera. They are usually fixed on a wall mount or tripod. Security drones are a fully autonomous gadget that can deploy, enter narrow spaces, and fly around on its own. They come with built-in cameras to live-stream video and survey its surroundings.
Security drones could be used for building safety inspections, enter confined spaces, or follow objects and intruders from a safe distance. They quickly cover a large area, recording images that the human eye may be unable to detect.
But you can't have a security drone flying around your living room.. or can you? There is a new category of security drones, a next-generation of products for indoor use.
Take, for example, the Ring home security system. The company announced the launch of its innovative Ring Always Home Cam, a new way to monitor your property. It is an indoor drone that provides multiple viewpoints with one device.
The Ring Always Home Cam flies on your personalized paths, so you can check just about any corner of the house. Rather than buying more cameras to cover an area, the drone can provide different perspectives in more locations inside your home.
The camera integrates perfectly with Ring alarm security systems. When the Ring alarm is triggered, the Always Home Cam will automatically fly the personalized path to see what is going on. It moves safely throughout the home, delivering stream videos that you can watch on your Ring App.
Obstacle avoidance technology allows the camera to dodge unexpected objects and goes back to its base to dock. It only starts recording when the device leaves its post, flying where you want it to go. Think of it as a great option to have a camera ready to go check weird noises you hear in the middle of the night.
Cameras for your business
In the past, if you needed to protect your business out of hours, the only options available were hardwired surveillance systems that came with a hefty price tag. Fortunately, times have changed. With the explosion of innovative safety solutions from the security industry, there are now many options to choose from.
Today, security is an affordable commodity that can satisfy any business seeking to protect what they worked hard to build. Companies need to guard their valuable equipment against being stolen, tampered with, or vandalized.
A robust security camera system can come in handy, deterring intruders from trespassing and giving business owners peace of mind. With the appearance of the Internet of Things (IoT), it drastically changed the security scene. It makes it easier now to monitor several areas at any time with more user-friendly equipment.
Technology has improved connectivity, cloud storage, and applications that help oversee your entire property with a touch of a button. Security cameras are effortlessly managed through smartphones and tablets, offering fantastic features like live feeds and wireless setups to fulfill your business requirements.
Whether for small or large business owners seeking the best budget-conscious option, security cameras have the flexibility to fit all expectations. Straightforward installations, high-quality images, and cloud/local storage are some of the features now offered with a security camera system.
With a security camera system in play, you can prevent employee theft, catch shoplifters in action, or record customer interactions to grade your buyer's experience. And with the smartphone apps, you can pop in to make sure that the office is locked up properly after everybody has left the building.
Regardless if it is for external or internal use, you have the freedom to cherry-pick which cameras are best for your shop. Some key factors will come into play, like the size and layout of your workplace, as well as your budget.
For example, you may wish to only monitor specific areas, like main office spaces or the cash register; consequently, you will need fewer cameras. If you want to cover every square foot, then the number of cameras you need will be truly relevant.
You can get all the security equipment you need to complete your business needs for a well-rounded safety solution. Adding smart locks, motion sensors, keypads, and smart lights will make your workplace a safer, more efficient environment for you and your employees.
Where to place the cameras
As you probably know by now, adding security cameras to your alarm system will provide 24/7 access to your property at a moment's notice. But figuring out how many cameras you need or where to install them can become an overwhelming task.
Unexperienced customers often make the mistake of buying just one camera, without thinking about the device's capabilities to pan or zoom. They end up frustrated that not only they can't view their entire property, but also don't get a clear picture while closing in on the images.
You should install multiple security cameras in many different areas throughout your home or business for the best coverage. Not only should you focus on a specific number of devices, but also explore the best locations that will provide wider viewing angles.
While all properties have different layouts, the right placement will be crucial for the camera's optimal performance. First things first: make sure your cameras are adequately installed! Some cameras come with peel-and-stick adhesives that can be easily attached to any flat surface. But for a more secure setup, it is better to bolt them directly onto the wall with the provided screws.
All cameras should be out of reach from prying hands that could meddle with them. Indoor cameras can be placed above any bookshelf, away from your kid's "touchdown" playing area. It will prevent any tackled-down accidents or from becoming your puppy's new chewing toy. You can also hide them behind a display cabinet, to keep a watchful eye over the new workers, like the cleaning lady or a nanny.
Outdoor cameras should always be screwed into the wall, as they have a higher risk of being tampered with (or even stolen). It is best to set them up at least nine feet above the ground, roughly speaking at a second-story level.
Use the camera's app to fully appreciate its field of view. It will help you determine your device's ideal placement, including the perfect height and viewing range. Don't be scared to play around with your camera to find the right angle: trial and error is sometimes the best path.
If you plan to install your cameras above windows or doors, it is best to set them a foot or two next to them with the camera looking down. You will be able to see your clients' faces and not just the top of their heads!
Here are some great ideas on where to set your security cameras to take the most advantage out of them:
Place outdoor cameras above doors that have access to your property: front, back, and side openings. Criminals frequently check main-entrance doors to see if someone forgot to lock them.
Set your indoor cameras facing off-street windows that can be more vulnerable to break-ins. If it is a hard-to-reach place, it could be better to install a glass-breaking sensor than balancing your indoor camera on Grandma's armchair.
Use cameras on areas where your most valuable items are stored. Bedrooms, living rooms, or central office are probably the most common places burglars like to rummage for jewelry, computers, and appliances (including your precious indoor camera).
Installing cameras above the driveway can help avoid intruders walking right into your kitchen through the garage door. In a business, point the cameras to the parking spaces in front of your store. You will see anyone arriving after hours, so you can be ready to call the police for assistance if the situation calls for it.
Toolsheds are another targeted area that users sometimes neglect to monitor. And burglars love to break into them. Usually, people store valuable tools, expensive fishing tackle equipment, and even antique furniture.
Some customers may be worried about installing their security cameras in a more visible spot. Don't be afraid to make your security cameras stand out; their noticeable presence is one of the best deterrents against property crimes.
Wired vs wireless cameras
The main difference between a wired and a wireless camera system rests upon how they are set up. The camera's network of sensors communicates with the outside world using either a landline or a Wi-Fi/Cellular connection.
Wired cameras require a hardwired installation. It needs a certified technician to take care of all the cabling for video transmissions, connectivity, and power source. He will also handle the equipment installation for optimal performance.
While hardwired systems can have an advantage in reliability, wireless ones can be used in places where others can't access it. Properties that are in more secluded areas may not have a landline service available. It is where wireless cameras come in as a fantastic alternative, thanks to its cellular and Wi-Fi connectivity. With Scout Home Security, you can have a Wi-Fi coverage with a 4G LTE cellular backup, making an incredibly reliable connection.
Having the option between wired or wireless will depend solely on what communications are available in your area. Sometimes, security companies like ADT offer both wiring systems for you to decide what is best for your property. Some security systems combine the two, setting a hardwired landline as the primary connection and a cellular backup.
The Pros/Cons of wired versus wireless boils down to two essential concerns: installation and functionality. Let's dive into the advantages and disadvantages of both wiring systems.
Wired cameras
Wired cameras are an excellent option for home and business owners who won't be moving the equipment around. Still, they want to continually keep watch over some areas. Wired systems are known for having steep installation costs since they require a professional to set up everything. That is why it is a better match for customers who are not planning to move to a new location anytime soon.
If you want a more dependable connection, go for a wired camera system. Wired cameras don't rely on over-the-air connections like Wi-Fi or having to be in the range from a cellular tower. You won't have to worry about connectivity issues, interference, or dropped Wi-Fi signals.
If you are lucky, some properties may have prewired security systems from previous owners, making the entire process a lot smoother. And since wired cameras will require cables connecting to your internet source and a power outlet, all the hard work is done.
Nowadays, many security companies don't mind taking over old, pre-installed systems, with some tweaking involved (maybe installing a new hub or control panel). But basically, hardwired systems have the same type of technology. Get in touch with your new security provider to explore the best options for your property. You might be surprised and hit a possible discount.
The downside: those annoying cables dangling everywhere! Cords running all the way to the nearest outlet and drilled holes on brand new partition walls could make anyone a little crazy. Of course, you can always hire a local contractor to hide them from plain sight, at an extra cost.
If you are a renter, you should always ask the property owners about any changes, even if it is only drilling holes in the backyard. Some homeowners take pride in their untarnished properties and won't like them altered in any way.
Power outages can also be a massive problem for wired systems that don't have a backup battery. No power means no camera feeds or communication with your security cameras. Also, wired systems are more vulnerable to outsiders cutting your power or landlines, causing the same effect as general blackouts.
Wireless cameras
Wireless cameras are perfect for renters, vacation homes, or secluded sites. You can take the equipment with you when you move to a new location. These cameras typically come with straightforward DIY installation, free from those irritating cables hanging everywhere. You will save some money since you are the one who will be taking care of the entire setup process.
They are also perfect for beautiful historic homes, so you don't make any alterations to the main structure. Wireless cameras also come in handy on properties with hard-surface walls where drilling could be a daunting task. Have you ever tried to drill a hole in a concrete wall? It is almost impossible without the proper tools; The same thing goes for brick, marble, and stone constructions.
Many security companies and local providers offer professional installations as an added cost for customers who are not too comfortable with disconnecting and reinstalling security equipment. It kind of defeats the purpose of DIY cameras, since you will have to pay the extra fee for moving your gear, but not everybody is a tech expert.
The downside: Wireless cameras have potential connectivity problems, making them a little less reliable. They usually need a Wi-Fi connection to access the live feeds, so if your internet service goes down, there won't be any communication with the equipment.
Also, placing them in the path of other devices may cause a lot of interference, causing major functionality issues. The obstruction can come from innocuous devices like microwave ovens, baby monitors, remote controls, and even power lines.
Wireless cameras are also vulnerable to power outages since some models still use an electrical outlet to plug to work. A few cameras come with their own rechargeable battery, working as the perfect backup for power outages.
The main downside is that you must be mindful of charging them regularly, so they are always operating at their best. Some cameras have removable batteries that easy to recharge or replace. Others require you to take down the camera and carry it inside to plug in and recharge.
The upside is that many security companies have now designed batteries that last for a couple of months. You won't have to be glued to your smartphone app, watching the energy bars draining out of your equipment.
Some cameras even send a warning notification when lower levels are reached so you can start charging a new one. It will give you time to schedule in and be ready for a dismount/recharge/reinstall process.
Most security companies and providers now offer both wired and wireless options, leaving the decision up to you. Security advisors can help you find the best deals and the top cameras available near you.
Monitoring
Many security companies now give customers the option to monitor their own systems or sign up for a professional monitoring service. With a Do-It-Yourself (DIY) system, you will be alerted via app notifications, SMS text, or email alerts when your alarm is triggered. When you go the professional route, you will have to sign up for a monitoring service that will take over the task of watching over your system.
The main difference between these two relies on how you interact with them. With a DIY system, you will be in charge of installing and managing all the equipment, security cameras included. During an emergency, you must review the live feeds from your cameras to assess the situation. If needed, you will have to contact the police or fire department to assist you.
DIY systems will demand active participation from your end. You must constantly check the system, receive all notifications (even the ones from your cat knocking over a book), and see that all the equipment is up and running. The flip side: you won't have to pay a monthly fee since you will be doing all the hard work; well, generally.
Although DIY cameras may come with no additional fees, some upgrades may come with a price tag. Cloud storage, facial recognition, customizable alerts, and home automation features can be added to your standard plan. Many companies offer free but limited cloud storage, so make sure that you read the fine print.
In contrast, a professional monitoring system will require extraordinarily little from you, aside from the monthly subscription. Trained monitoring agents will guard your home 24/7, jumping into action when the alarm is activated.
They can review the feeds from your cameras and check triggered sensors to evaluate your home's status. In an emergency, the monitoring center can contact first responders on your behalf, dispatching fast assistance to your property.
Abode security systems are a unique alternative. The company offers three monitoring options: the standard Do-It-Yourself monitoring, the professional monitoring service, and On-demand professional monitoring. With the latter, you can pay for a three-day or seven-day monitoring service, perfect for when you are going on a short vacation or a trip.
Professional monitoring is a more conventional safety approach, while DIY systems are a newer concept in the security scene. But without a doubt, adding security cameras and a monitoring service is one of the best ways to boost the security of any property, residential and commercial.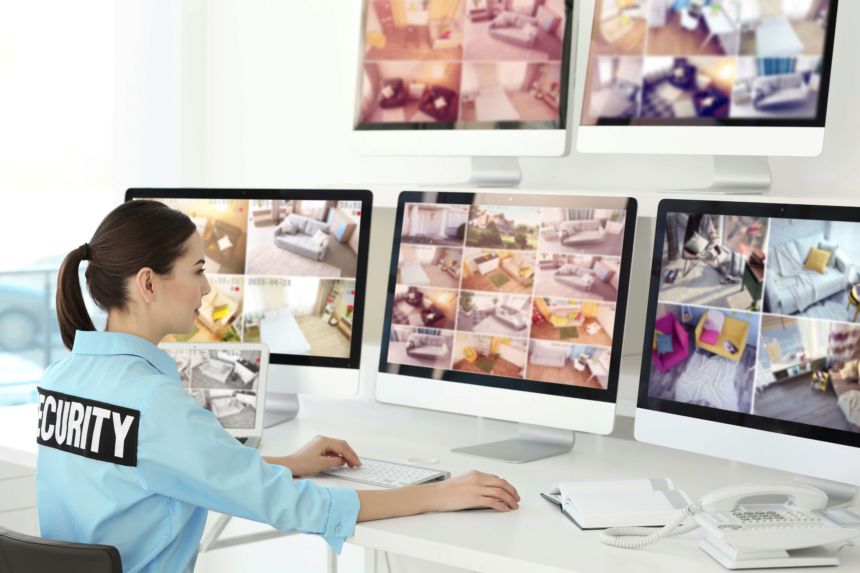 Bottom line
The benefits of a security camera system are innumerable. They add a whole new level of protection to any home or business by providing live feeds from your devices. Security cameras act as excellent deterrents against trespassers trying to burglarize your property. They also grant remote control over your property, allowing you to monitor from anywhere at any time.
But choosing the right equipment can be a puzzling task, especially if you are a first-time buyer. To make an informed decision, you must get acquainted with how security cameras work and what type of devices are best for specific areas. That's where this article can be of great help.
Not all cameras are created equal, as they provide different applications for every security need. You must do your due diligence and understand the different types of cameras out there and appreciate their innovative features to make the most out of your security setup.
In a nutshell, there are three types of cameras: indoor, outdoor, and video doorbell cameras. Each has its own purpose, designed to meet different safety needs. Indoor cameras work great in interior settings that need a more personalized touch. Outdoor cameras are perfect for guarding open areas. And the popular video doorbell is essential if you want to keep tabs on your front door.
Pairing your security cameras with other smart devices such as smart locks and lighting will deliver a robust safety solution to any residential and commercial property.
To better understand how security systems work, check out our Home Security Beginner's Guide. It is a detailed review of the industry's leading home security equipment and service providers near you.