Nest Offers The Best Home Security Solutions
Nest's main focus is to bring user-friendly possibilities, from installation to running your devices. Their hardware works intuitively and has learning capabilities like recognizing family and friends, learn your routines, and many more.
Nest Home Security carries many features when it comes to automating your house. Nest is a Do-It-Yourself (DIY) install system and requires few components because a lot of the devices are all-in-one. Their multi-purpose sensors can alert you when motion is sensed and when windows and doors are opened and closed.
With Nest alarm system, you have to purchase your equipment upfront. It can become a little pricey, especially if you add accessories like indoor cameras or a video doorbell.
Nest for home offers professional monitoring as an option, so you don't have to monitor yourself. They partner up with Brinks Security to provide two monitoring options: a monthly plan or a three-year agreement.
Affordable & Reliable Home Alarm Systems
Intelligent identification
Smarter Alerts
DIY Installation
DIY Monitoring
24/7 Professional monitoring through Brinks (optional).
Integrated Smart Home Ecosystem
Mobile or web browser access
Cost and contract information
Nest Security System provides world-class DIY equipment and features, even though they are a little steep compared with other DIY home security systems. Nest Secure has redesigned its sensors coupled with flexible integration and monitoring options, so you need less gear to set up.
You have a couple of choices when it comes to purchasing your equipment: You can pay upfront for everything, or you can finance it through month-to-month fees. If you want to avoid a costly upfront investment, Nest helps you split your purchase into monthly installments using Affirm financing, at 0% APR with up to 24 months.
Nest secure alarm systems are a Do-It-Yourself (DIY), so there is no installation fee. Like many leading DIYs such as Honeywell alarm systems, it also has no activation costs, an excellent option for saving money you can put forward other smart devices.
They do provide Nest Pro contractors specialized in installing Nest thermostats, Nest Protect, and Nest cameras. Basic installations may vary from $99-$250, while a more advanced professional installation can range from $200-$300. For some Nest products, a Nest Pro installation can extend your warranty.
With Nest DIY home security systems, you are not obligated to have a professional monitoring plan. Using the Nest app, you can self-monitor (DIY) your system and avoid monitoring costs altogether.
If you want something a little more secure or don't want to self-monitor, Nest partnered up with Brinks. Together, they offer a monthly monitoring plan with a cellular backup service or a three-year contract. Many top companies like Frontpoint home security also use this type of coverage as it is one of the most reliable connections for alarm systems.
If you choose the month-to-month option, you don't have to sign a contract, similar to many DIYs like Abode home security systems. But if you go with the three-year agreement, you get a $10 per month discount, or you save US$360 in monitoring services by choosing a long-term deal.
Detail
Nest DIY Monitoring
Nest Pro Monitoring (No contract)
Nest Pro Monitoring (With contract)
Installation Cost
$0.00
$0.00
$0.00
Nest Pro Install
Starting at $99
Starting at $99
Starting at $99
Activation Cost
$0.00
$0.00
$0.00
Nest Secure Monitoring
Not Available
$29
$19
Equipment Cost
$399
$399
$399
Starter Set
1 Nest Guard
2 Nest Detect Sensors
2 Nest Tags
1 Nest Guard
2 Nest Detect Sensors
2 Nest Tags
1 Nest Guard
2 Nest Detect Sensors
2 Nest Tags
Brinks® Pro Monitoring
0 Months
0 Months
36 Months
Prices may vary
Nest Security has a monthly subscription for video surveillance called Nest Aware that allows you to store video recordings in a cloud account for up to 30 days. You only need this pricing if you have Nest home security cameras. So if you are just using the home security system, you won't need to purchase these plans.
Nest Aware has three subscription options that go from $5/month to $30/month and will vary depending on the features included in each scenario.
Coverage and policies
Nest Security System works with your Wi-fi connection. While some items can work without it, you will not get the full experience, like being able to control it remotely or connect it to other devices. Nest equipment keeps communicating with each other with Nest Weave protocol. One way to make Nest System the best way possible is to have a cellular backup subscription.
Even though Nest products are sold worldwide, the monitoring service is only available in the United States and Canada. Take into consideration that not all of the Nest products are designed or tested for use in other countries, and customer support may not be available.
When you choose Nest, you may have purchased the equipment upfront; If so, you can break off from your subscription at any time without any cancellation fee. But if you finance your equipment through Affirm or pick the 3-year monitoring contract, you are responsible for any outstanding balance.
Equipment
Nest Secure alarm system is DIY install equipment that comes prearranged in a home security kit. This basic set includes the Nest Guard, two Nest Detect sensors, and two Nest Tags.
The Nest Guard is the keypad base station that works as a hub for Nest devices to connect to and comes with a motion detector.
The Nest Detect sensors for doors and windows have a multi-purpose design that varies depending on the location you set them up. When you mount them on windows and doors, it acts as a contact sensor for detecting opening and closing. If you have them set up on the wall or door, it also works as a motion sensor.
The Nest Tags are key fobs (a remote tag that can be attached to your keys set) that provide an automated feature to arm and disarm your system. Just wave the tags over the Nest Guard station instead of punching in a code, and you are ready to go.
Nest grants a wide range of customizations that work on their own or alongside the Nest Secure system so you can custom-fit your home according to your needs.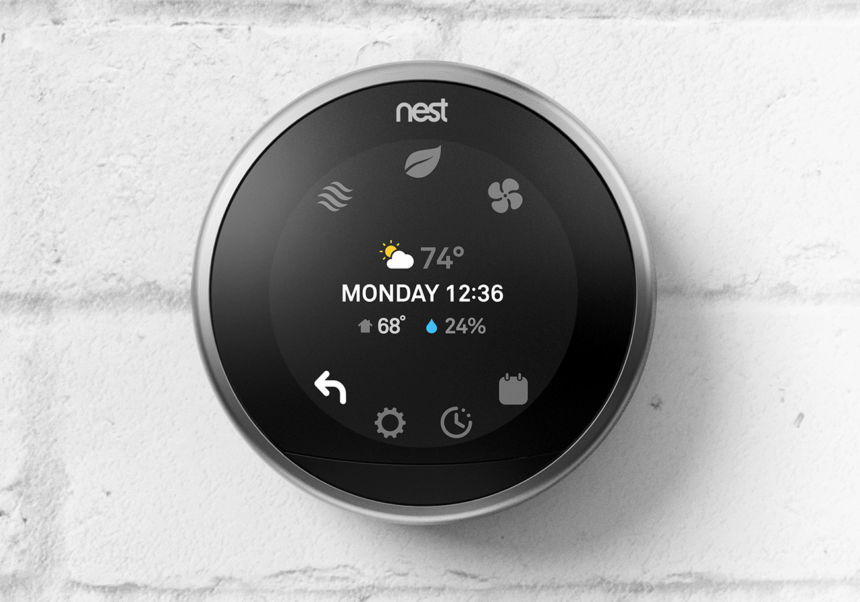 The Nest Home Security System offers Nest Protect smoke and CO2 alarm, Nest thermostats, Nest Hello video doorbell, a smart deadlock, four different home security cameras, Nest Connect, and many more.
Some features that Nest secure alarm systems offer are:
| Equipment Highlights | Nest Secure Basic Kit | Nest Aware |
| --- | --- | --- |
| No Rush Arming and Disarming | Yes | Yes |
| Scheduled Disarm Times | Yes | Yes |
| Smart Home Ecosystem | Yes | Yes |
| Voice Alerts | Yes | Yes |
| Nest App | Yes | Yes |
| Cloud-based Video Storage | No | Yes |
| Smarter Alerts | No | Yes |
| 24/7 Recording | No | Yes |
Home automation
Nest Security System uses a secure and reliable communications protocol called Weave that works over a Thread network. The Nest system allows the service and app to know about any sensor variations with Weave over your Wi-fi network. With this protocol, If the power goes out, Nest Detect can still talk to the keypad station. It works with a wide range of equipment so you can customize your home or business as you see fit.
Currently, there are some compatibility problems between Z-Wave and some Nest equipment. But some plugins can be used to work around that. So if you buy Z-wave components, you may come to some trouble that can be fixed with a standard wire installed.
Nest for Home doesn't support Amazon Alexa, nor does it support third-party devices that use integration via IFTTT (If This Then That). Nest has recently added Google Assistant, allowing you to arm your system by voice. It also integrates with the Nest Yale Lock, disarming your system automatically when you unlock the door. Nest integrates well with Chromecast, Philips-Hue lightbulbs, Amazon Echo and Fire.
Customer experience
Nest Home Security is a complete DIY installation and monitoring system, offering easy access through their app and freedom from long-time contracts. You can monitor your house from the Nest App, giving you a centralized control panel on your mobile device or web browser. You can modify the types of alerts and their priority for each device, giving you control over your home automation system.
If you are not comfortable monitoring your equipment, Nest has partnered up with Brinks Home Security to bring you a 24/7 monitoring service that includes cellular backup. If a sensor is triggered, Nest Secure will notify Brinks' monitoring center. Brinks will then reach out to you via phone and text to confirm if the alarm is real.
If Brinks can't get ahold of the Nest alarm owner or anyone on their contact list, they will request a police dispatch. The monitoring agent will stay engaged until the situation is settled.
The Nest System has been in the smart home industry for a while now, so they have a lot of resources available for their customer support. Their website has an extensive set of self-help articles, guides, FAQs, and a Nest community.
Nest alarm systems have a good reputation when it comes to customer service and sales tactics. Some objections reported about Nest customer service to the Better Business Bureau (BBB) have to do with the customer support team and services.
Installation
Nest Secure is a DIY installation and requires few appliances because a lot of them are all-in-one devices. Nest products are easy to install, prioritizing automatic setup and configuration without a lot of extra steps.
The Nest App helps you control and configure all your Nest products, simplifying all your smart home automation. This DIY installation will give you some savings on installation fees since you will be doing all the work.
Nest Alarm System might not be the best choice for people without technology experience. If you want a professional installation, Nest does offer Nest Pro service for a fee. Professional installation starts at $99, and it will vary depending on how much gear you buy to set up in your house.
Before installing the Nest alarm system, you have to download the app and create an account if it is your first time using Nest products. In the settings menu, you tap Add Product and follow the instructions to scan the QR code on the Nest Guard base.
Once plugged in, the LED ring will turn blue, and you can use the Nest app for the rest of the setup. You can add the Nest Detect sensor and the key fobs in a very similar way.
Nest Security is a DIY home security system, monitoring all your Nest Products from the app. It utilizes your Wi-fi connection to remotely control every aspect of your home. One of the advantages of DIY monitoring is that there are no extra charges.
The downside is that if there is a power out or your Wi-fi goes down, you won't receive any notifications through your Nest App. But if you prefer to have a professional do all the work for you, Nest offers professional monitoring as a separate option.
They partner up with Brinks home security to provide two Nest Secure monitoring options that include cellular backup: a monthly plan for $29 or a three-year agreement for $19 a month.
Bottom line
The Nest Home Security System is known for having some of the best user-friendly DIY home security systems in Nashville and throughout the country. They bring many customization and home automation possibilities to your doorstep.
Nest stands out thanks to their multi-purpose devices, allowing you fewer gadgets around your home and saving money on extra pieces of equipment. Installation is relatively easy to do, using the Nest App to guide you through it all. The devices come with QR codes to scan, and then the app pairs them up with the Nest system.
Nest is a DIY monitor system, but they give you the option to purchase their Nest Secure packages for 24/7 professional monitoring for a monthly fee. The starter pack is an excellent choice for customers with some technological experience since the Nest App and Nest products can be challenging to set up for some users.