Honeywell Alarm Systems
Honeywell Smart Home Security is a complete Do-It-Yourself (DIY) system. From installation to monitoring, you will be in charge of your entire security system. The Honeywell DIY system has a straightforward setup that operates with the mobile app.
Honeywell is app-dependent; it has no keypad or control panel to manage the security system. Even though you can use the key fob for simple tasks, like arming and disarming, you will use the Honeywell app for installing and managing your security system.
The system includes an all-in-one base station with some pretty cool features all packed into this single unique device:
Motion-sensing camera
Integrated siren/speaker
Smart home integrations
Built-in Amazon Alexa
An enhanced deterrent feature that plays sounds to make it seem like someone is home while you are away
Honeywell Smart alarm system offers preset home security kits to choose from or the flexibility to create your personalized security system. You will have to pay for any Honeywell equipment upfront.
You can always go with the Honeywell Home products, where authorized dealers handle all the installation and retail sales of home security devices for an added cost. Honeywell has no professional installation service available for its DIY smart home security system.
Honeywell home security is DIY security made easy, including self-monitoring. There is no professional monitoring service available.
The system uses Wi-Fi coverage but no cellular back-up. In contrast, most companies rely on the most secure cellular connection. The Honeywell alarm system is ideal for small apartments. If you are looking for a security alarm fitted for a medium to a large home, we recommend you go with the Honeywell Home pro route.
There are no contracts, something pretty uncommon nowadays in the security industry. The equipment comes with a two-year warranty and a 30-day full refund on new products.
Choose From A Selection of Honeywell Home Security Kits
DIY installation and DIY monitoring
Wireless Equipment
Wi-Fi coverage
Built-in Amazon Alexa voice service
Face Recognition
Free/Paid cloud storage
Smartphone control
Compatible with Smart Home Devices
Smart Scenes
Cost and contract information
Honeywell All-In-One Smart Home Security is a flexible DIY system that offers preset equipment bundles. If you prefer, you have the option to create an equipment pack, picking each device á-la-carte for maximum customization.
Honeywell is a straightforward DIY installation system, saving you money by no activation or installation fees. The company does not provide professional installation with its DIY system. Nevertheless, you can always go for the Honeywell Home products that offer professional installation through its authorized dealers.
It's a more complete and professional solution, while the DIY system relies on its simplicity and straightforward installation.
You can purchase your Honeywell Smart Home Security equipment upfront or use PayPal credit to pay over time. Using PayPal Credit, no interest will be charged on the purchase if you pay it off in full within six months. If not, interest will be charged from the purchase date at the purchase APR applicable to your account. The purchase APR is 26.24% but could vary. Minimum $99 purchases are required to apply.
Honeywell Smart Home is a complete DIY monitoring system that uses a Wi-Fi connection. You will be self-monitoring using the Honeywell Home App; There are no professional monitoring plans available.
Honeywell does offer free cloud storage with its security cameras, and you can sign up for a membership for extra storage. The company does not require any contracts or additional monthly fees. Honeywell equipment comes with a two-year warranty and a 30-day moneyback guarantee on new devices.
| Home Security System | Remark |
| --- | --- |
| Activation Cost | $0.00 |
| Installation Fee | $0.00 |
| Honeywell Equipment Packs | Starting at $399 |
| Custom-Built Equipment | Starting at $349 |
| Camera's Cloud Storage | See details |
| Monthly Monitoring Fee | No monthly fee |
| Monitoring | Self-Monitoring |
| Connection | Wi-Fi |
| Contract Length | No Contract |
| Prices may vary | |
Coverage
Honeywell Smart Home Security is a wireless system with a Wi-Fi connection for its coverage; No landline required. Broadband connections are an excellent substitute for cellular or landline connections. The downside: if there is a power outage or your internet goes down, you won't be able to communicate with your system. Still, the Honeywell system keeps recording data.
Honeywell is already making a name for itself, delivering some of the best home security in Knoxville, TN, and across the nation.
Like many leading DIY systems such as Abode Home Security, Honeywell systems don't require any contracts; it is a complete DIY installation and monitoring system. The best part: there is no cancelation fee.
You can subscribe to a membership that covers more cloud storage for your cameras. Bear in mind that the first camera comes with free storage. The equipment has a two-year warranty and a 30-day moneyback guarantee to test the system out.
Equipment
Honeywell All-In-One Smart Home Security offers three preset equipment packages, ideal for first-time security customers, delivering the flexibility to build it up with more devices over time. Honeywell also provides the option to build your system from the ground up so you can customize your home security to meet all your needs. Every Honeywell system needs a core item: the smart home security base station.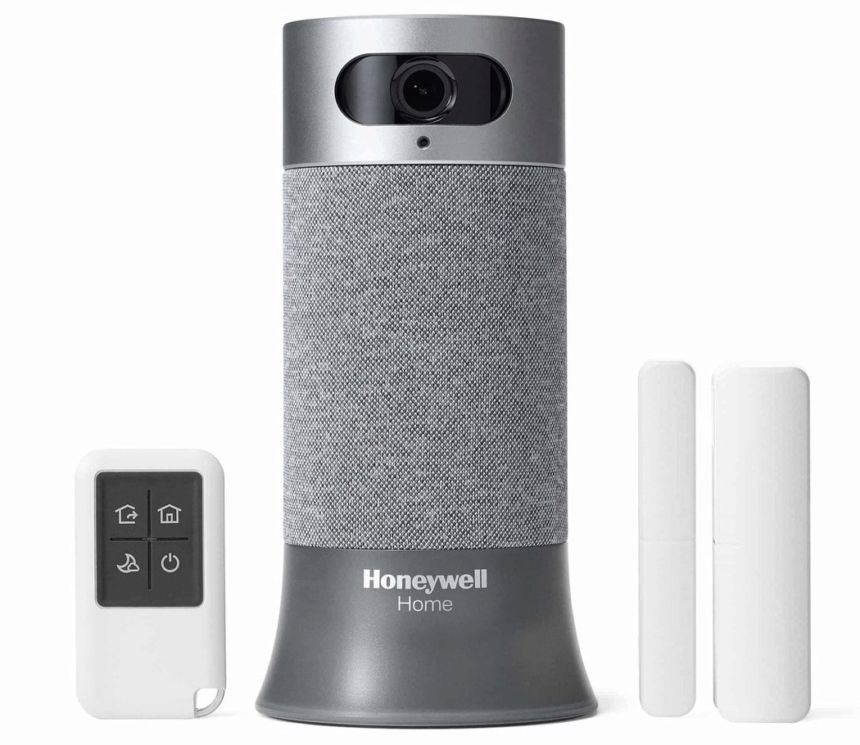 You can add more components to your bundles, like motion sensors, indoor/outdoor cameras, thermostats, access sensors, and more, for an extra cost. Honeywell also offers some innovative indoor and outdoor motion viewers that record a 10-second color video clip of what's moving in front of them. But like many other smart devices such as the Frontpoint doorbell camera, it may require you to sign up for a premium plan to enjoy the automation features.
Honeywell uses Wi-Fi communication with a rechargeable battery back-up. Broadband connections provide fast communication with your system. The drawback: if there is a power outage or your internet service goes down, you won't be able to monitor your security system. However, The Honeywell equipment will keep recording data.
Honeywell Smart Home equipment is a little bulky, which makes blending it with your home décor a little tricky. One nifty idea is that Honeywell's indoor equipment comes in white, while outdoor equipment comes in black. It is a great way to set them apart for easy installation.
Its equipment comes with some benefits, for instance:
| Honeywell Options | Main Benefit | Technology | Type |
| --- | --- | --- | --- |
| Honeywell Home App | Convenience & Control | Intermediate | App |
| Indoor Camera | Motion Detection | Intermediate | Camera |
| Outdoor MotionViewer | Motion Detection & Control | Basic | Sensor |
| Key Fob | Convenience | Basic | Sensor |
| Thermostat | Energy Saver | Intermediate | Smart Thermostat |
Home automation
Honeywell Smart Home Security comes with a dynamic feature called Smart Scenes. This exciting feature lets you schedule "scenes" to trigger certain home automation activities at certain times throughout the day. For example, a "goodnight" scene could lock your doors, turn off your lights, and arm your security system at a specified scheduled time. Honeywell equipment connects using Honeywell's Wiselink Security Protocol.
Honeywell's base station comes with built-in Amazon Alexa and voice control to change your system's mode with simple voice commands. You can ask Alexa many home automation tasks, like turning up the thermostat, dim the lights, or arm your system without lifting a finger.
Honeywell also supports Google Assistant to integrate with your security system using voice commands.
Honeywell integrates with Apple's Homekit to bring a single way of managing your components, instead of using lots of apps that only do one thing. Apple's HomeKit is a home app that integrates and controls HomeKit devices from your iPhone or iPad.
Honeywell integrates well with Z-Wave Plus, a product certification program designed to ensure the best performance with Z-Wave products. These improvements provide longer battery life, faster operation, and easier installation.
Honeywell also supports "If This, Then That" (IFTTT) integration, allowing you to tailor your smart home system with an extensive assortment of products and services. IFTTT helps apps and devices work together to build a smart home that responds to every cue, from locking your front door to welcoming the pizza delivery guy.
For a complete list on Honeywell partners with several third party brands to make the home automation experience more robust and complete. Plus, the Honeywell home security system comes with other features, such as:
| Smart Home Features | Included |
| --- | --- |
| Wi-Fi Connection | Yes |
| Honeywell Home Mobile App | Yes |
| Enhanced Deterrence | Yes |
| Geofencing | Yes |
| Push notifications to mobile device | Yes |
| Email alerts | Yes |
| Smart Home Integrations | Yes |
| Free storage for the first camera | Yes |
Customer experience
Honeywell Smart Home Security has only one monitoring option: self-monitoring. With a DIY, you have total control to monitor your home security system, releasing you of any monthly monitoring fees. You have the freedom to uninstall your security system and take it with you when you move.
You don't have to deal with canceling contracts that come accompanied by hefty penalty fees. Honeywell comes with Wi-Fi coverage, which is a fast way to communicate with your system. But if there is a power outage or your internet goes down, your system will keep recording, but you will lose all communications.
But as with any DIY undertaking, it has its drawbacks. Honeywell is app-dependent; if you lose cellular service or run out of battery on your mobile phone, your home may be at risk. You won't get notified of a possible emergency; no one will call the authorities for you.
With a professional monitoring service, you have trained experts overseeing your system 24/7, prepared to act if your alarm goes off. Unfortunately, Honeywell does not have professional monitoring services for its equipment.
Honeywell Security System has a solid reputation when it comes to customer service. The company's website offers an extensive array of articles, user manuals, videos, and guides. You can contact the Honeywell support team via Twitter, live chat, or call them directly. The open hours are Monday through Sunday from 7 am to 10 pm CDT/CST.
Honeywell has a very accessible website with easy-to-view packs and products that come with an extensive description and specifications for each one. Honeywell has a vast product catalog covering the essential security components and accessories, to the most advanced devices, like smart thermostats.
Honeywell installation
Honeywell home security is one of the most uncomplicated Do-It-Yourself installation and monitoring systems in the DIY industry. It is a no-hassle wireless installation; No eyesore cables dangling from your wall.
With DIY Installations, you will be in charge of pairing and placing all the devices in a suitable location around your house, saving money on professional installation services. If you don't have any technical experience or don't feel up to the task of taking on a DIY project, you could ask a family member or friend to help you out.
Honeywell does not provide professional installation services with its DIY Smart Home system. You could always opt for the Honeywell Home products that use authorized dealers to handle the sales and installation of home security products at an extra cost.
Honeywell alarm system brings three preset home security kits to choose from or the option to build it from scratch. Choosing amongst many different security components may seem a little bit mind-boggling for new customers. If you are a first-time security buyer, we recommend that you go with a preset starter kit. This way, you can start building up your security system over time as you see fit.
Once you purchase your Honeywell alarm system, you will get your equipment box at home. The installation process is one of the easiest we've seen in the market today. The Honeywell app will do all the pairing automatically as soon as you plug in the base station, scan the QR code, and remove the battery tags from all the sensors.
Honeywell Smart Home System is designed to be a complete DIY experience; there are no professional monitoring plans available. You will be self-monitoring your home through the Honeywell Home mobile app across your Wi-Fi connection. It has no contract requirements, which is pretty uncommon in the security industry.
Some security systems that offer DIY-monitoring charge a monthly fee for app access to manage their system. With Honeywell, there is no cost for using the app; you get it for free. Honeywell's DIY system will save you a great deal of money on installation and monthly monitoring fees. But if you don't want a DIY as your security surveillance, Honeywell may not be the solution you are looking for.
Bottom line
Honeywell is a renowned company, recognized for its security equipment and accessories. It is making its way into the DIY world with the new Honeywell Smart home security system. Honeywell's DIY system is one of the most user-friendly in play today, with its straightforward installation and simple mobile app management.
It is one of the most flexible systems to add-on devices and has remarkable home automation integrations. Honeywell Smart Home security is an excellent option for first-time buyers that want to grow their security system over time.
The keypad-less system could be a little bothersome for those who don't want to be app-dependent or hooked on a mobile phone. Honeywell alarm system is a complete DIY experience. From installation to monitoring, you will have absolute control over every detail of the equipment setup. Honeywell has no contracts, something pretty rare in the security market today.
A DIY system may not be for everybody. Nevertheless, the Honeywell alarm system is designed to be cost-effective, tremendously simple to install and monitor for both new customers and more experienced ones.
It is a perfect security system for renters, small apartments, and frequent mover customers that want to avoid lengthy contracts that usually charge cancellation and moving fees. If you are looking for professional services, Honeywell offers a more robust solution through its Honeywell Home product line.