Overview
In recent years, new approaches to monitoring your home have surfaced. From touchless video doorbells to motion-activated outdoor cameras, technology has evolved immensely. It also includes a new category, the next generation of drones like the innovative Ring Always Home Cam that improves the user experience to new heights.
*Functionality simulated for illustrative purposes only.
Autonomously Flying Indoor Security Camera
In September of 2020, Amazon announced its next-level, autonomously-flying indoor security camera, the Ring Always Home Cam. With unique technology developed by Ring, it delivers a new way to monitor your home in a manner that has never been done before.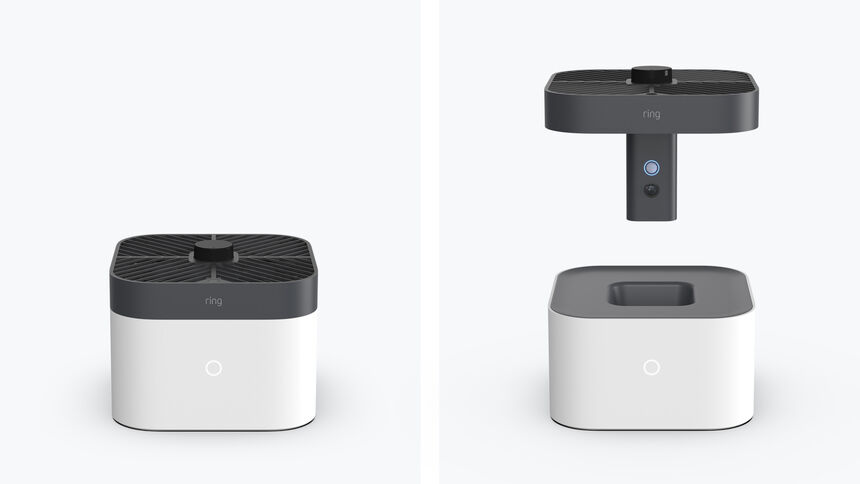 The Ring Always Home Cam delivers multiple viewpoints throughout your home without requiring the use of numerous cameras. It will help customers who don't have power outlets in the right spot or can't afford cameras in every room of the house. It will provide the flexibility of different angles inside your home with only one device.
The company says the camera can be used for simple tasks, like checking if a window was left open or if the stove is on. It is a small high-definition camera that automatically flies on pre-set paths when prompt or the alarm is triggered. You will be able to stream live videos to your smartphone and see along the way.
General Outlines
Ring brought together the best hardware and software technologies to create this fully autonomous indoor drone. It was built on the groundworks of privacy while moving safely throughout your home.
Convenient Design
The Ring Always Home Cam is be mounted on a short crate extending below its propellers. The device rests in a square cage, and it is physically blocked when docked. The camera moves on personalized pre-set paths of your choosing, recording only when the device leaves the station.
Programmable Flight Paths
When you set up the preferred flight paths, you ensure that the Always Home Cam will only fly where you want it to go. It is the key to the foundation of privacy, as it cannot be manually controlled and will only see and record what matters to you. It can fly on-demand or triggered by any disturbance detected when linked to the Ring Alarm system.
Obstacle-avoidance Technology
The camera comes with obstacle avoidance technology that allows it to sidestep unexpected objects. Its small size and covered propellers enable it to fly safely, preventing property damage or hurting a pet that might collide with the drone.
On top of that, the Always Home Cam has a safety guard that protects the propellers. Even if it hits something and falls, the blades won't get damaged.
Plus, if it detects an obstacle in the way of its programmed path, the camera will return to its dock and send an instant alert. It will let you know that it couldn't complete the run around the house.
Privacy you can hear
Drones are generally noisy; after all, having rotors for propulsion does make some noise. The Always Home Cam is engineered to hum at a particular volume, so it is clear when it is in motion and recording.
The camera is easily spotted when in action, and you shouldn't be startled by it. As it patrols your home, you can hear the buzzing getting closer. Its noise can also be an excellent deterrent to someone entering your house or a rummaging raccoon going through the garbage bin.
Accessible Livestream
Much like any other Ring camera, you will access the camera's video feeds in real-time. It has HD live streaming, with a flight time of about five minutes, and needs about an hour to charge.
Ring stated that the short runtime was deliberate to make the Always Home Cam a "purpose-driven security camera." It will be a good fit for customers with relatively basic needs or aren't comfortable with a fixed connected camera.
Bottom Line
Ring is a well-known company recognized mainly for its smart doorbell video cameras and easy-to-use DIY home security system. But now, with the announcement of its new Always Home Cam, Ring has revolutionized the way we think about home security.
The Ring Always Home Cam is an autonomous indoor drone that promises to monitor every corner of your home. It offers a new vantage point that you can't get from stationary indoor cameras. It can fly on its own on a pre-set route without any supervision, capturing everything on its path.
The camera is designed for indoor use only, effortlessly integrating with the Ring Alarm security system. It will give you an extra set of eyes wherever you need, becoming a problem solver for wanting a camera in every nook and cranny inside your house.
Imagine the possibilities! A surveillance camera that gives you multiple viewpoints instead of having several indoor cameras spread around your house. It is Ring's most ambitious product yet; one we will have to wait for and see if it works as promised. The camera will cost $249.99; if you live in the US, you can apply for an invitation to buy it today. The devices will ship later this year.