Overview
Vivint designs its own equipment, frequently placing among the first to developed cool new features. As long as you are paying for a monitoring plan, Vivint Equipment comes with a lifetime warranty. If you opt for a Premium Service plan, you will also get free service calls, in case you need any help with your system. Without a monitoring plan, the warranty only lasts 120 days.
Vivint home security system comes with all the standard devices you need to keep your house safe. Vivint equipment needs a professional technician to come to your house and do all the installation for you. To guarantee a proper setup, Vivint doesn't give the option to have a DIY installation. All you must do is decide the equipment that meets your needs and a monitoring plan that best suits your ambitions for home automation, and the Vivint home security system does all the rest.
All Vivint equipment operates using Z-Wave technology. The devices are wireless, including smart thermostats and cameras. It makes it easy to move without leaving irritating holes in the walls. For a more detailed analysis of how the company works and its monitoring policies, check out Vivint security reviews.
Vivint home security sensors
Vivint Motion detector sensors can identify movement from all angles. It uses infrared technology to alert you of any intruders; when an alarm is triggered, Vivint Security Agents will respond in less than one minute. Vivint motion sensors have a 110-degree wide-angled spread and come with a tamper-protected design. You can choose from entry sensors to garage door, glass break, and motion detection sensors. Keep in mind that Vivint Home is pricy so that it will be adding up at the end.
Vivint home security offers an array of environmental sensors to choose from. You can select the one that fits your home's needs or the area where you live. Vivint gives you different environmental sensors to pick from. You get to choose from smoke and heat sensors to Carbon Monoxide detectors, water leak/flood sensors, and even Freeze sensors.
Vivint Home Equipment sensors allow selecting pet-immune sensors so you can program to ignore anything up to a specific size (33-55 lb.). To prevent your pets from triggering motion detectors, avoid placing the sensors in spaces that your pet frequently hangs out. If you don't want to deal with false alarms but need security in a specific area, you should consider placing a camera instead.
Vivint home security cameras
Vivint cameras enable you to accurately see what is happening in your home at any moment from anywhere. The cameras come furnished with Wi-fi connectivity and remote viewing capabilities for an effortless glimpse of your home or business from your smartphone. Most Vivint cameras have night vision, motion-triggered recording, and high definition recording, making them a top-of-the-line product. And with professionals doing the installation, Vivint Camera setup is another aspect you don't have to worry about.
In recent times, Vivint released the Ping Indoor Camera, with a unique feature that lets you get an incoming video call through the Vivint Sky app. Vivint Ping Camera enables you to check on your kids, monitor pets, or chat with the babysitter to see everything is quiet at the home front. Vivint Ping features a 2-way video intercom that allows you to communicate directly and instantly with the touch of a button.
Vivint Doorbell Camera lets you see, hear, and speak to people that arrive at your doorstep if you are away from home. You'll receive notifications from your cellphone, granting a conversation in real time with your visitor, or even unlock the door for a family member you'd need to let in. Vivint Doorbell Camera has a crisp-picture image that lasts throughout the day and night. Thanks to a 180-degree view of your front door and night vision function, you will see who is at your entranceway.
Vivint Outdoor Camera features a durable all-weather build, and subtle design makes it less vulnerable to tamper by vandalism. It comes with High Definition resolution, Wi-fi connectivity, night vision, and motion detection. Any spotted movement triggers 30-second auto-recording clips that you can review up to 30 days.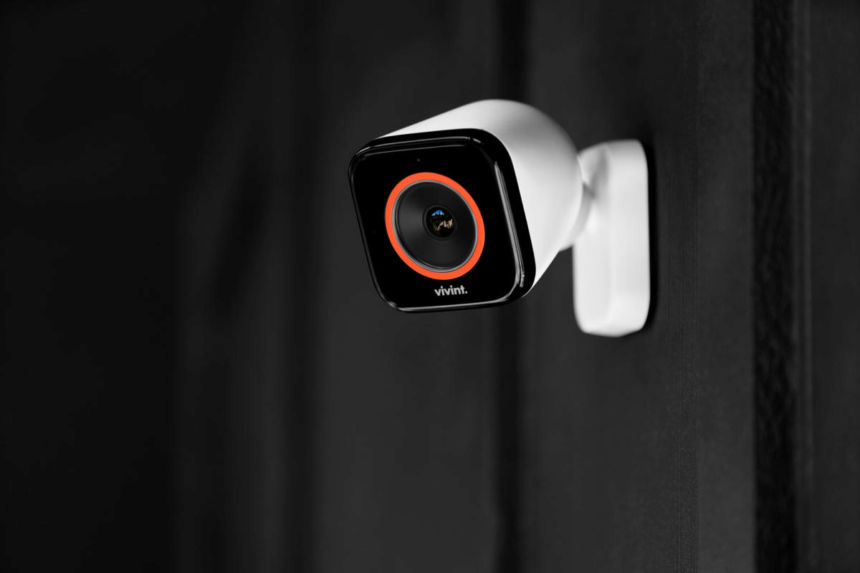 Vivint Sensors and Cameras come with a five-year lithium battery, so you won't have any offline issues as long as there is a cellular connection. Recordings upload wirelessly to Vivint Smart Drive. It provides 30 days of 24/7 continuous recording from your cameras and monitoring from all your sensors to keep an eye on your home.
Vivint control panel and app
Vivint Control Panel offers a cutting-edge, 7" touchscreen panel that is user-friendly. It was one of the first companies to provide a built-in two-way communication, making home automation an extraordinary pleasant and comfortable experience. The Control panel works as a smart home hub, interlocking and unifying other home automation products like Amazon Echo and Nest. Vivint Control Panel lets you arm/disarm your system from your smartphone. You can also access security cameras, emit fire and smoke warnings, and sound the panic alarm, all in one place.
As soon as you are a Vivint customer, you will get an email granting you access to Vivint Sky Control App for a free download to a smartphone or tablet. The app is simple to navigate and lets you get home alerts and notifications. It makes home automation a portable option, giving you numerous levels of control over your Vivint Smart Home, no matter where you are.
Vivint App has some impressive features like arm/disarm your security system and watch video clips. You can record at a specific time or set the cameras up for motion detection. Vivint equipment allows you to control small appliances and lights, lock or unlock doors from afar and manage your thermostat. It can potentially save you energy and money on your utility bills.
Vivint home security is a complete smart home solution engineered to meet all your security expectations. Having a professionally installed system helps customize the Vivint equipment based on your needs. Vivint offers a vast selection of smart products that integrate perfectly through its control panel and smartphone app.
When you are thinking of buying a security system, it is recommended that you explore all options. To provide you with the tools needed to make an educated decision, read the Vivint overview. It can help you evaluate the company's services and product catalog from different vantage points.