Overview
Your best path towards preventing a property crime is to invest in a home security system. You may be wondering if the burglar system your best friend has installed in his city apartment will work on your parents' farmhouse. The answer to this question most likely will be a resounding no, and we will tell you why.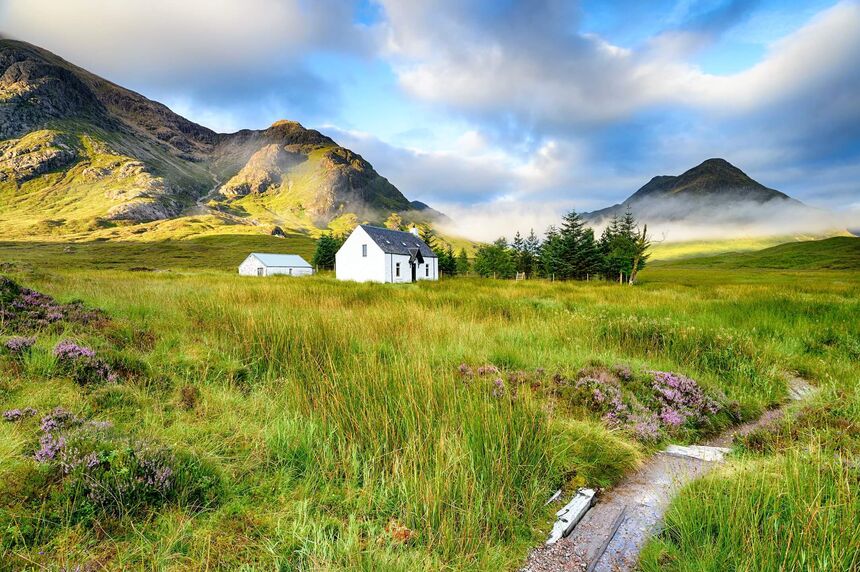 Urban vs. Rural
Home security systems come with different security elements and features, making each security company unique. Even though they share the same goals, the equipment, the setup, and monitoring options will vary from one provider to the next.
Throughout this article, we will help you understand the distinction between urban and rural setups. Topics like how a security system works, the monitoring style, and communication options will help you choose the right alarm system.
Rural and Urban security have many distinct differences. For starters, the extent of land to monitor will influence what alarm system to buy. We shall begin by clarifying what each area entails. The United States Census Bureau defines urban-rural classification by delineating the geographical regions.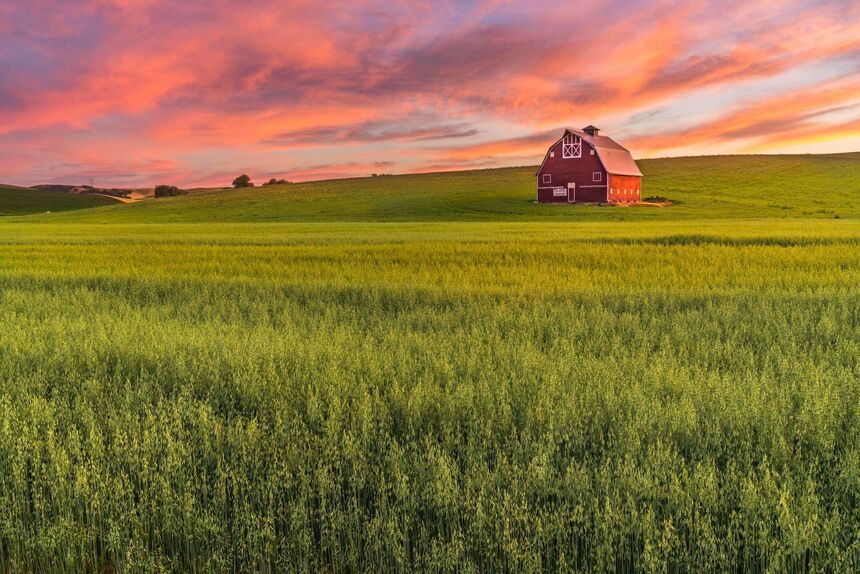 Urban zones are a densely developed territory that includes residential, commercial, and other non-residential urban land uses. Rural contains all population, housing, and region, not within a metropolitan area.
Urbanized areas have a nucleus of 50,000 or more people, while urban cluster has at least 2,500 and less than 50,000 people. In comparison, rural America consists of open country and settlements with fewer than 2,500 residents.
In simple words, rural is a less populated area than urban. Rural America includes countryside communities, farms, and homes located further away from heavily populated urban areas.
We all know that living in a rural area has its share of benefits. You will be closer to nature and have more privacy, with a laid-back atmosphere you can hardly get in the city. Some people crave clean air and open spaces, while others thrive on the fast-paced cramped-living quarter's vibes of the giant metropolis.
When living in the countryside, you probably won't have as many amenities as big cities offer their residents. Emergency services take longer to arrive. You will need a better monitoring option for your property to have a faster response time.
It also means you won't have as many neighbors walking past your road and spotting a stranger lurking over your property. You can call a fellow neighbor in the suburbs and ask him to go over and see if everything is ok with your home, unlike in the backcountry.
Take a cattle farm: the houses are probably not so close together as in a small town or city. Yes, your neighbors could probably walk or drive by your property, but sometimes farmhouses are miles apart.
Besides, you don't want to be a hassle to your neighbors. It would be best if you didn't depend on them to be your "home security guards." You don't want to put an untrained person in front of a fire or a break-in… cue home security systems!
In a rural area, you will typically have more land to secure. It could be a financial strain on your budget to fence in the entire property. It makes it more prone to trespassers, the two-legged as well as four-legged kind.
In contrast, suburban homes or downtown living quarters are more comfortable to monitor. The lot's square footage might be smaller, even with a big backyard included. Compared to a horse ranch with thousands of acres and multiple buildings to cover, urban households will need less monitoring area per footage.
Another critical issue is connectivity. Home security can feel intimidating to customers who live in more secluded areas. Communication between your alarm system and the monitoring center is an essential part of home security.
If your signal is weak, then the whole security setup can be jeopardized. No matter if you are a loner living in an out-of-the-way ranch in Glasgow, Montana, or a family of 6 living in a brownstone townhouse in Chicago, you need a reliable connection to your system.
Urban areas have the advantage here: Household Internet access in urban areas is twice as high as in rural areas. While broadband networks basically cover all metropolitan areas in the nation, there are still many Internet access gaps in rural areas.
According to the 2019 FCC's Broadband Deployment Report, one in four rural Americans don't have access to the minimum speed requirement for broadband Internet (at least 25 Mbps). That's millions of people with limited internet access or none at all.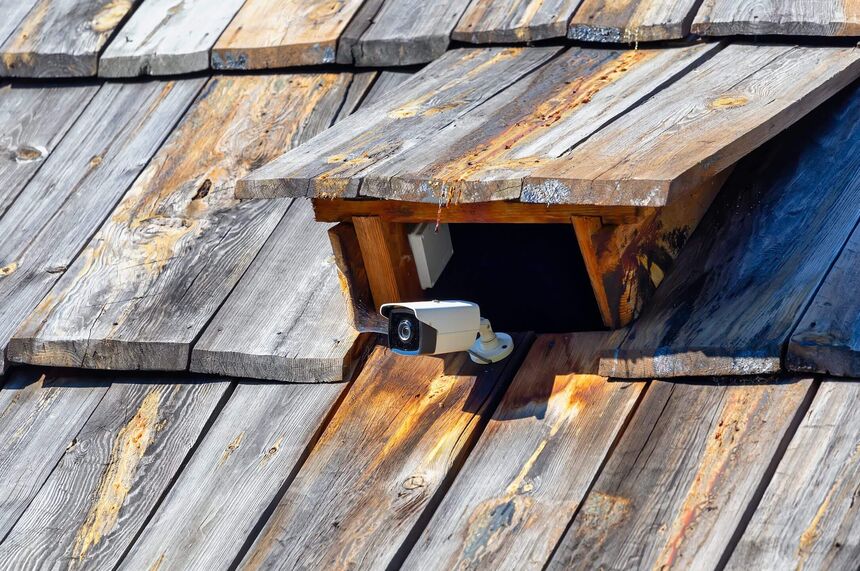 If you live in or near a big, urbanized area, you should have easy access to high-speed Internet. You might have more possibilities when choosing a home security system. In contrast, rural customers must pay extra attention to communication settings and monitoring options.
Rural security will vary greatly depending on their proximity to urban areas. Cellular connections are growing by the day, providing better coverage for urban and rural territories. If you go for a home security system with cellular connectivity, make sure your security company checks for the range before committing to any contracts.
In general, rural home security systems are like urban and suburban security systems. Still, you might need to pay attention to some key features to make the most out of your rural security setup. Here are some highlights to take into consideration:
Invest in a customizable system:
It is best to choose a security company that allows wiggle room to add items. Rural homes are usually on larger lots than urban ones, which means you will need more devices to secure them. You'll want a security system that can be expanded over time, adding gadgets and home automation features as you see fit. This way, you can save money on upfront costs and spend it on the perfect outdoor camera down the line.
Look for arm/disarm remote capabilities:
If you live in a rural area, sometimes it might be physically impossible to be home to control your alarm system. Choose a security system that allows remote control from your smartphone, a smart device, and even voice assistance. Most security companies already offer these portable features; make sure you have coverage (Internet or cellular).
Security cameras are a must:
Smart security will allow you to quickly tap into the live access feed around your property. You can keep an eye on the inside of your home as well as the front door, barns, toolsheds, and other buildings in need of protection. It helps reduce any delay between a potential threat and your monitoring center. Smart security cameras will let you check in on any part of your property, no matter what you are doing.
Pair it up with Motion detection:
Motion sensors are the perfect match for outdoor security. These powerful devices use advanced technology to detect movement, and some can even distinguish between humans and animals. If a trespasser makes it through your fence, the motion detector will trigger the alarm. You can check the live feeds from an outdoor camera and even scare away predators terrifying your livestock.
Bright up the spaces:
Monitoring your entire property at night can be challenging, depending on how much land you have. Consider installing motion-activated smart lights to shine on main areas. Burglars love the darkness for cover, so turning on the lights will help deter them away from your property. It is also a great way to frighten any ferocious animal getting too close to your horse stables.
Better let the experts handle the equipment:
For rural properties or bigger homes, it is best to hire a professional to take over the installation process. There are multiple areas to cover, and professional installers are more knowledgeable in optimizing the placement of cameras and sensors. They also offer expert advice on how many devices you need or spot an exposed area that you might have overlooked.
Dual connectivity:
When it is time to decide how to monitor your security system, communication plays center stage. Whether you want to DIY or opt for a professional monitoring service, look for security companies that offer multiple backup types. Many service providers have Wi-Fi with Cellular backup (or vice versa), but only when you sign up for their premium monitoring plans.
Choose wisely:
When it comes down to monitoring your system, you have the last word. If you want to self-monitor your property, feel free to do so. Think carefully about the role you will be playing in a DIY system vs. signing up for a professional service. For rural areas, it is highly recommended to go with a professional monitoring plan. If, for instance, you are distracted on a chore or out of reach, the monitoring center takes over. It contacts the proper authorities on your behalf.
Now that we have discussed the difference between rural and urban security, it is time to talk about which security system is best for you. Urban settings have further decisive factors to consider. Details like the property's layout, size, and ownership vs. rental properties are some of the things you will have to consider.
If you want to learn more about choosing the best alarm system for an urban area, check out our owner vs. rent article. For now, we will focus on the top rural home security systems and their features.
Security Company
Installation Type
Monitoring Style
Unique Features
Coverage*
Protect America
DIY + Pro (optional)
Professional monitoring only
Limited lifetime warranty
Landline, Wi-Fi, and Cellular
ADT
Professional installation only
Professional monitoring only
ADT Go service app
Landline and Cellular
Brinks
DIY + Pro (optional)
Professional monitoring only
ASAPer live messaging system
Wi-Fi and Cellular
Abode
DIY + Pro (optional)
DIY + Pro
On-demand professional monitoring service
Wi-Fi with Cellular backup
Nest
DIY + Pro (optional)
DIY + Pro
Top-of-the-line smart products with learning capabilities
Wi-Fi with Cellular backup
Ring Alarm
DIY only
DIY + Pro
Neighbors App feature
Wi-Fi with Cellular backup
Scout
DIY only
DIY + Pro
RFID sticker
Wi-Fi with Cellular backup
Xfinity Home
Pro only
Pro only
Comcast home integration
Wi-Fi with Cellular backup
SimpliSafe
DIY + Pro (optional)/td>
DIY + Pro
Secret Alerts private notifications
Cellular with Wi-Fi backup
Frontpoint
DIY only
Pro only
Geolocation service
Cellular with Wi-Fi backup**
*Subject to the company's coverage
** The Frontpoint Hub functions using cellular coverage.However, you may connect the Hub to Wi-Fi as a backup.
Understanding more about the different home security systems, innovations and technology, and other components will help you make the right choice when purchasing a security system. Below are the criteria and broad explanation for the features we used to decide which home security system works best for rural and urban security.
What to look for in a home security system:
Every home security system works on the same essential concept of securing exterior access points (like windows and doors) and interior areas (such as the basement or the kids' rooms). They are engineered to bring the best protection possible to your doorstep. If you want to explore the specifics of how home security systems work, please go to our beginner's guide.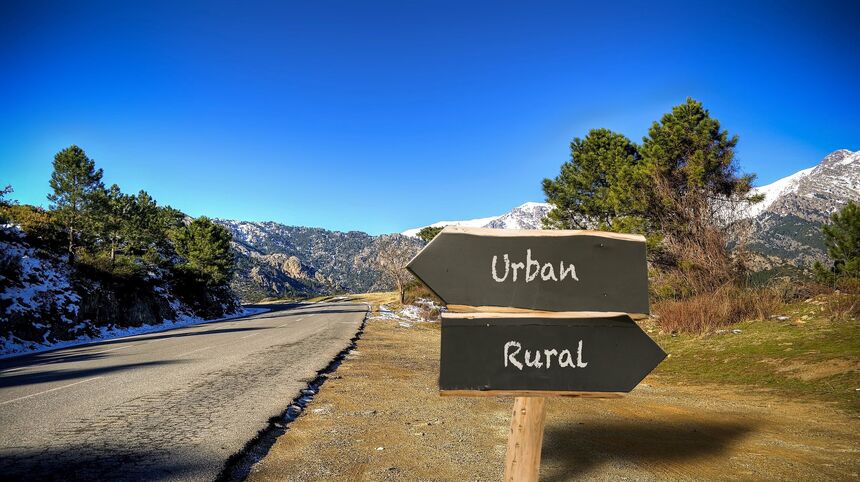 Unfortunately, not all alarm systems are built the same. Some are more suitable for small rental apartments, while others are a better fit for larger homes. Whether you live in the suburbs of a big city or on a ranch outside of a small town, one thing is for sure: Burglars don't discriminate.
Listed below are the criteria that served as the benchmarks Home-security.com used to help define the entire decision-making process. The more knowledgeable you are on the subject, the better choices you will make.
Installation and monitoring:
These are the two main ingredients in any security system. How an alarm is set up and monitored will determine the best option for your property. Some security companies offer easy-to-use Do-It-Yourself (DIY) systems, while others only provide professionally-monitored ones.
DIY systems
With a DIY approach, you will have full control over your equipment's setup and monitoring path. DIY systems typically come with preset equipment packs with a straightforward plug-and-play wireless installation.
You can build your system over time, adding new security components or upgrading old ones whenever you need them. Maybe a smart lock for your front door is what you are missing, or smart lights for the blind spot near the toolshed.
DIY systems are self-monitored, designed with simplicity and "user-friendliness." Think carefully about how you want out of your home security and what smart devices will make your "sentinel" life more comfortable.
Professional systems:
With a professional security system, you won't have to worry about a thing. The security provider will take care of everything, from installing all the devices to monitoring your home 24/7.
Pro systems usually include exclusive perks such as home automation features as an incentive for the extra cost. You can enhance your security system by integrating some pretty cool devices and features like indoor cameras, flood sensors, voice assistance interfaces, and more.
Imagine being able to automate your beautiful farmhouse from head to toe, something that wasn't possible until now. You can add smart blinds and program them to rise at dawn while putting your favorite song on a smart speaker. Now that is something you don't see every day.
You are still required to subscribe to a monitoring plan that may come with a long-term commitment. On the plus side, a professional system usually comes with backup communication coverage. It will help to keep your network online. Remember: the monitoring center needs a constant, secure connection to always keep an eye on it.
Communication protocols
How effortlessly your system connects with you or the monitoring center will define how secure and reliable your safety setup will be. Your current location must be compatible with the equipment and monitoring plan; otherwise, you could have a failed connection.
Home security companies use three main routes to link their home security systems to the outside world: Landline, broadband, and cellular connectivity.
Landline:
Landline communication allows hardwired systems to connect to your service provider using your home phone line. They are a fantastic alternative when cellular or broadband coverage is not available. In remote areas or rural regions, cellular or broadband signals may deliver a poor connection, leaving your system vulnerable.
Broadband/Internet:
Broadband systems connect smart devices to the service provider via the Internet using a router. It is a perfect option for home security customers with stable and high-speed Internet service.
But out-of-the-way locations might not have this type of connectivity available. Internet service might be affected by low signal strength or external interference, like walls, a barn, or bulky structures. And in some parts of Rural America, there is simply no service at all.
Satellite Internet:
When landlines and cell towers can't reach a remote area, satellite internet might be the only connection available. Several satellite Internet providers like Viasat and Starlink offer sufficient broadband speeds, serving most rural areas across the country.
The one glitch: it could be an expensive choice. Do your "due diligence" before choosing a service provider!
Cellular:
With this type of connectivity, you will employ a cellular network to link your home security system to a service provider. Your security alarm will be monitored across cell towers that send signals to your devices and back to the monitoring center.
It is considered the most reliable out of the three options. Still, you will need a strong cellular signal for your alarm system to work correctly. Some rural areas may have weak reception.
For an in-depth analysis of how each coverage works, check out our article about internet communication types.
Bottom Line
As you can see, some alarm systems are better suited for rural settings than others for urban dwellings. What works for a small loft will probably be inadequate in a massive horse ranch. Rural properties need more devices to cover all the land and different structures. In comparison, urban parcels are packed in smaller lots with less footage to monitor.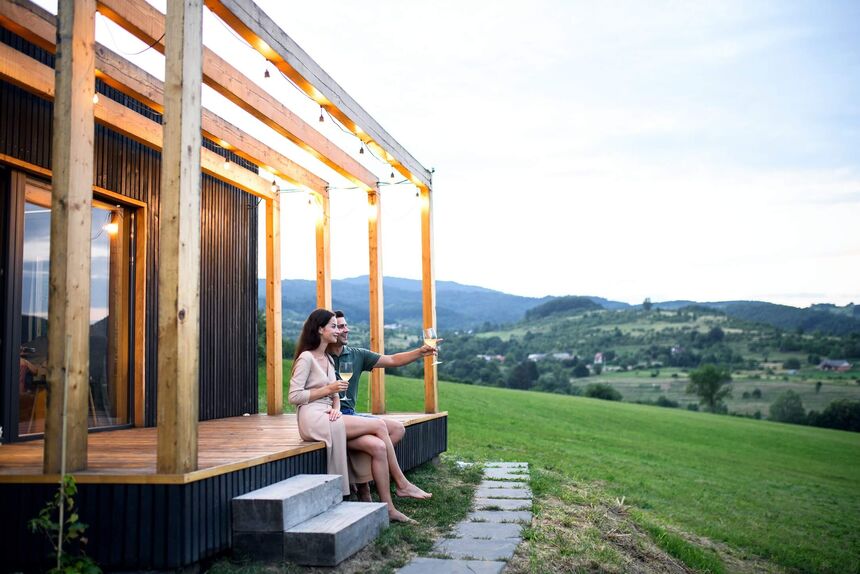 When looking to buy a home security system for rural America, we recommend choosing a security company that offers multiple connectivity options. You will have more opportunities to have excellent non-stop communication to your alarm, which is the home security system's endgame. Don't forget: Ask your security provider if they check for coverage before signing up for any long-term contract!
On the other hand, urban homes don't have to worry too much about connectivity. Customers have an array of options to choose from. Homes are closer to cell towers or have good quality Internet access that usually comes with living in a big metropolis.
Another critical issue is installation. We recommend that you go for a professional installation if you live in a larger property, regardless of whether it is rural or urban. Larger properties present their own set of obstacles that an inexperienced user might not be able to decipher.
As for monitoring, you can go for a DIY system or opt for a more reliable professionally-monitored one. The choice is yours to make. But before you decide, check out our section on the best home security systems and see what the top security companies have to offer.